Monday 30th January 2006
ANFIELD ONLINE LFC NEWS
RAFA CONFIDENT FOR FA CUP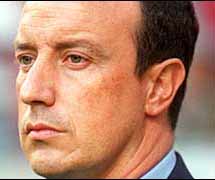 "If you are going to win the FA Cup then you must first beat good teams to reach the final," claimed Benitez.
"It won't be easy against a team of Manchester United's level but we will be at home and that gives us an advantage. It was a very close game when we played each other at Old Trafford and it will be close again when we play at Anfield.

"Despite conceding a goal in the last minute, we controlled the game at Old Trafford but we did not play as well as we can. When we play to our full ability we can beat any team in the world and with our supporters behind us at Anfield - acting as the 12th man - I believe we can win this match."
Official LFC