Apart from 2013-14 and the runners-up finish the past seven years have seen Liverpool finish in sixth (twice), seventh (twice) and now eighth (twice).
Not great.
Liverpool spent most of the first decade of the 21st century as one of England's top 4 clubs under.
In 1999 finishing 7th was a huge shock.  In 2014 finishing 2nd was.
With 2013-14 now looking like the outlier thanks to Luis Suarez' and Daniel Sturridge's goalscoring exploits - Liverpool are, in terms of league position, a top eight club.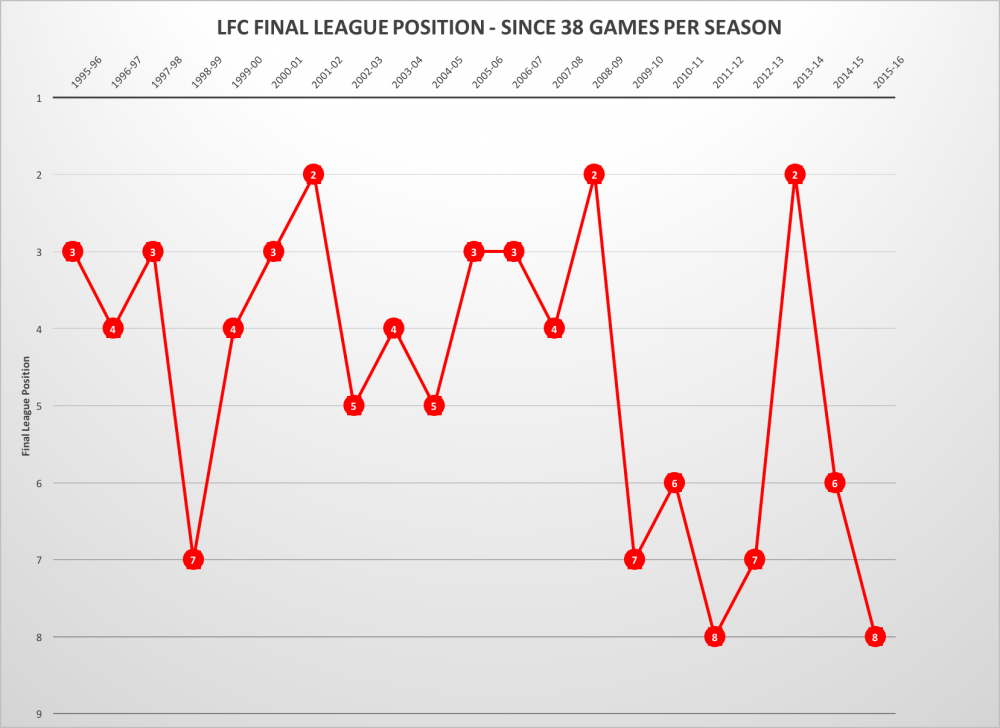 Jurgen Klopp has been brought in to return the club to the higher echelons of the league - where Champions League qualification is considered likely - not extraordinary.
Obviously he could take the dramatic route to ensure this on Wednesday when Liverpool take on Sevilla in the Europa League final.  A Champions League place for the 8th highest league finishers would raise eyebrows for some but we won't care about that.
In the mid to late 2000's under Rafa Benitez the reds had an impressive defensive record.  The club were practically regulars in the Champions League for a time - reaching two finals within 3 seasons.
The SAS goals in 2013-14 did help the reds to a second place finish but the problematic defensive issues were still there - just hidden.  50 goals were conceded then - the same as this season.  When Suarez left the attack had been blunted but critically the problems at the back were not dealt with.
From the low of 2007-08 - Liverpool's defence has got progressively worse. From our best rate of conceding a Premier League goal every 148 minutes to this season where we concede every 68 minutes.
One of the world's best players couldn't quite win us the league and in the absence of a Luis Suarez clone out there willing to join Liverpool - improving Liverpool's defence is arguably the most important job for a manager with a long term vision at Anfield.
Between 2001 and 2010 Liverpool finished within just 4 wins of the title winners on 5 out of 10 occasions.  Since 2010 this has been achieved just once.  The reds have been at least 21 points away (7 wins) in 6 out of the last 7 seasons.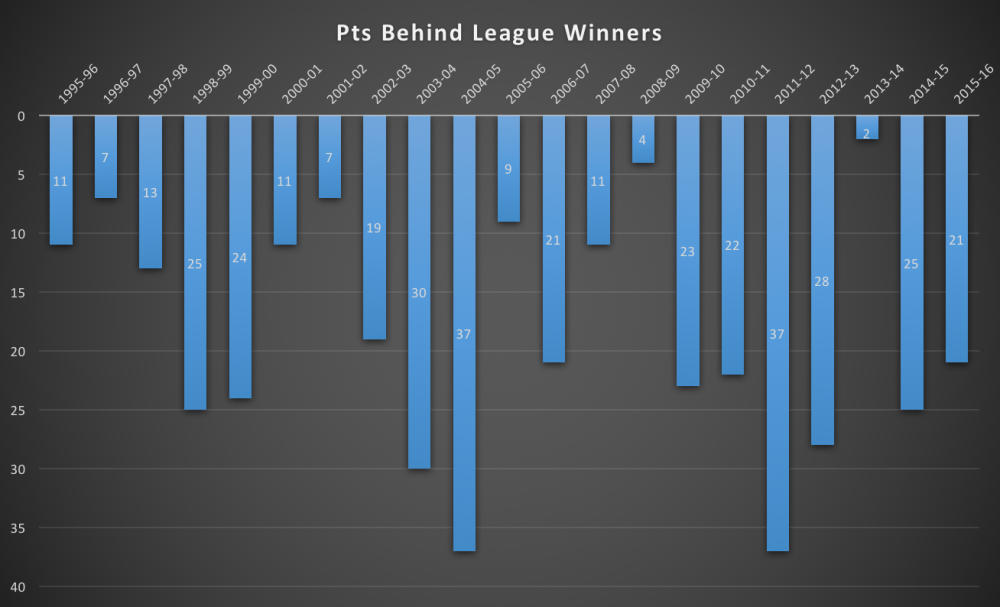 21 points is a massive gap to be bridged in one season.  It has only been done by Liverpool twice in the past 21 years (since the Premier League was reduced to 20 teams).
Obviously in 2013-14 when Rodgers side improved by 23 points (although they fell back by 22 points the following season) and in 2005-06 when Benitez's side improved by 24 points (falling back by 14 points the following season).
Leicester this year showed that miracles can happen - they jumped by 40 points this season - but their foundations had already been laid towards the end of last season when they had won seven out of their last 9.
Klopp will have been frustrated to see so many set-pieces conceded in his 51 games in charge.  A team that works hard to win the ball back is not inspired to work harder when they see blunders occurring in defence and in goal.
Some of our attacking players have been hit and miss - no doubt about it.  Ings and Origi's injuries have undoubtedly hindered our efforts this season.  Ibe, despite his last day goal, hasn't taken the chance he was given when Sterling left.
Despite all of this - Liverpool's fundamental and overriding problem remains at the back.
Good luck in fixing it Jurgen.