So how did you feel? Annoyed, betrayed, jealous, even relieved? There will have been various opinions over the last week about Michael Owen joining the Mancs. I've had a mixture of the above emotions and it's taken a few days for me to now make sense of it all.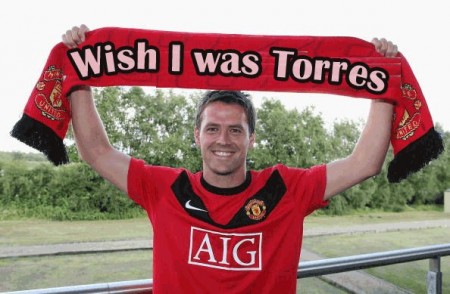 Regardless of your opinion there can be little doubt that once upon a time we all loved Owen. The FA Cup Final against Arsenal was a particular special memory and although he never gave us the Premier League as we hoped, we can hardly hold that against him. I had many a great time watching Owen terrorise defenders with his pace and prove to Glenn Hoddle that he really was a "natural goalscorer." In the early part of the decade, Owen was one of the best strikers in the world and he was our player.
I refuse to let him or the Mancs take these memories away. Probably like most of you, I cannot begin to understand the desire to play for such a team, particularly if you have ever claimed to be a true Liverpool fan. Arsenal, Chelsea or even (due to his upbringing) Everton would have been a more understandable alternative but in many eyes he's committed the cardinal sin. That picture with the scarf in all the papers still makes me wretch.
However, my annoyance has abated a little since I tried to analyse it a little more. Had he gone to the Mancs instead of Real Madrid in 2004 I would have despised him beyond belief. Though I disagreed with his decision, motives and common sense at the time, he left us because he thought more glory and probably money awaiting him at the Bernabeu. At the time, aged 24, the thought of him going to the Theatre of Silence would have been too much to bear and the gloating from down the East Lancs Road would have been ringing in our ears for a long time.
Look at his position now though. His team have just got relegated, he's been dropped from the England side and the all-time top England goalscorer record that at one time looked a safe bet for him now looks very uncertain. His injuries have increased, his pace has decreased and he became a free agent in the summer with the likes of Hull and Stoke sniffing around. With all due respect to those clubs, his profile would have hardly increased enough for Capello to take much notice. He must have fallen off his racing pony in amazement when grumpy face gave him a call. Who'd have thought 2 months ago that the Mancs would still have been interested.
What he will get at Manure is profile. We all know how obsessed the media are with Whisky nose and his bunch of whinging mercenary lowlife. Whether he will get enough chances to prove himself is debatable. He may get a few games and if so will probably score a few goals. If he takes the penalties and Mike Riley is the referee, he'll certainly get enough practice. What he won't be is the lightning quick menace that we had at Anfield 5 years ago, and for this reason we shouldn't feel too annoyed at the whole deal.
There's no doubt that however much Ferguson will deny it, signing Owen does represent a certain element of desperation. Okay, he's taken a massive pay cut and didn't cost a transfer fee but with £80M floating around, there isn't a chance that Owen would have got within 3 miles of their stadium if either Benzema or Villa had been snagged. To be honest I'd rather they have Owen in his present form than either of these 2 players. Add to that the bonus that he's never clicked with Rooney with England. More of that lack of understanding will do just fine thanks.
Now Robbie Fowler or Ian Rush or Kenny Dalglish would have hung their boots up and never played football again than pull on the shirt that Owen will be wearing next season, and because of that he's made it quite clear that he's not so much of a Liverpool fan as he pretended to be all along. He turned his back on us once when Benitez didn't want him to go and missed out on Istanbul and one of the best Liverpool nights of all time. Although there were various stories of him waiting for Liverpool to make the call a few days ago, we just have to accept that it might have meant a lot to him once upon a time to play for us but it was always really about Michael Owen and what he could get from his career.
Should we boo and jeer him when he returns to Anfield? Absolutely we should, just the same as we should do the same for absolutely any player that plays for that team.
Should we disregard everything he did for Liverpool? Absolutely not. He was great in his day for us but he has moved on and more importantly so have we.