With a bold ambition of second place before the game against Aston Villa, we once again take a step backwards. Rodgers and FSG may well think they have everything under control but as fans there are still lots of questions we have about the club's progress.
The 10 questions below represent the thoughts of some in a small part of the Centenary Stand.
I would also be interested in the views of other fans, just in case Brendan doesn't have time to read this and reply in person.
1. What plans do you have to buy a creative central midfielder to take some of the burden off Gerrard who looks like he can't carry the team on his own any more?
2. What do you say to Luis Suarez at the end of a game when he has spent more time complaining about decisions than focusing on scoring goals?
3. What made you think that Stewart Downing would be a good left back?
4. Why have you never played Glen Johnson further forward when he is probably the most capable of crossing a ball and also has a better shot than most of the team?
5. Do you really think that Darren Bent or Daniel Sturridge are the answer that we are looking for?
6. Do you regret saying we are aiming for second place when we are far more likely to have a relegation battle than challenging at the top of the league?
7. How do you feel about Joe Allen's start to his Anfield career in light of your comparison to Xavi?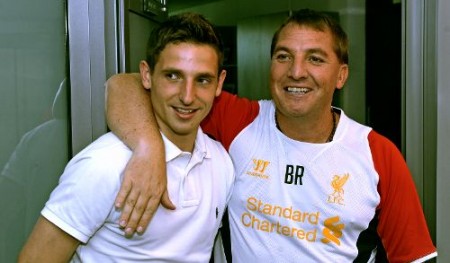 8. Why does Suso no longer seem to be in favour when he seemed to be just starting to look the part?
9. What has happened to our scouts at Liverpool. How come we only seem to be able to pay over the odds for players rather than find those with potential at a bargain like most of our competitors do?
10. Why are we being held to ransom on a contract by an 18 year old who has plenty of potential but who at the moment can't provide a decent cross and gets blown off the ball by a strong breeze?