OBY's Dugout
Liverpool 3-0 West Brom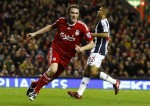 His names not Keano. It's Robbie Keane! Yes Liverpool return to winning ways in the Premiership, and just as they return so do I. Therefore, firstly I apologise for my absence over recent weeks. Computer viruses- You know how it goes. But I'm back and so is the infamous goal scoring legend. Robbie Keane.
Firstly, the team. I have to admit, the team was very strong. Possibly the strongest team we have without El Niño. Even Dirk Kuyt appears to have come into his own in his new centre forward role.
To the first half then and I have to admit, a tense first ten minutes as West Brom took the initiative and put Liverpool on the back foot. Fairly surprised by this The Reds made a tremendous come back as the match settled into a state of equilibrium with each team having equal amounts of possession and chances each. Eventually, the tide began to turn Liverpool's way and West Brom finally submitted to Liverpool's dominance and conceded the first goal of the game, but also the first goal of Robbie Keane's Liverpool career. And what a goal it was, firstly the ball through by Gerrard required a great football mind and as for the finish from Keane he looked like it was his 100th for Liverpool. After this boost in confidence Liverpool only stepped up the pressure on the Baggies and that pressure heightened in the 43rd minute as Keane bagged his second goal for the Reds. It certainly was a great goal to put the reds in a very comfortable position. The goal wasn't bad to. A terrific through ball from Fabio Aurelio and all credit to Keane for keeping his cool and composure and simply taking the ball away from keeper Scott Carson and sliding the ball home for Liverpool's second.
So to the second half and Liverpool started on the attack. Through the entire second half Liverpool came across as the stronger side, not to say that West Brom never had their moments but Liverpool appeared to be just to strong for them. The only complaint I have about the whole game was the substitution of Robbie Keane. Fair enough, I was glad to see El Niño back on the pitch but I really think now is the time for Keane to be getting 90 minutes week after week. Personally I would have taken Kuyt off, or even Benayoun. Now to the goal. Unusual to see Alvaro Arbeloa on the score sheet and congrats to everyone who has him on your fantasy football teams. It was a very well taken goal to. From a great ball from Kuyt it was an excellent finish by Arbeloa.
Finally, my man of the match award for this week goes to . . . (Well was there really any doubt?) Robbie Keane. Absolutely fantastic performance today and should never had been subbed in my opinion. Anyway, One more match down and next week its Bolton at the Reebok, but first we travel to the place were our unbeaten run ended last week; White Hart Lane in the Carling Cup.
Good luck the Red Men!