Daniel Pacheco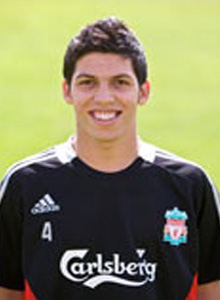 LFC Profile and Statistics
Attacker
(Centre)
Full Name:
Daniel Pacheco
Born:
5th January 1991 in Malaga, Spain
Age:
30
Bought:
1st July 2007 from Barcelona
Transfer Fee:
Free
Sold:
2nd September 2013 to AD Alcorcon
Fee Received:
£0
All LFC Appearances:
17
LFC Goals:
0
Career Appearances:
17
Career Goals:
0
Spain Appearances:
Goals:
Previous Clubs:
Huesca (loan), Rayo Vallecano (loan), Norwich (loan), Barcelona
Daniel Pacheco Profile
Dani is the player in reserves that most fans have been hoping to see a lot more of this season. Frustratingly he has been away on a lot of training camps last season on the run up to Spain's involvement in the U19 championships. The short term pain could be long term gain as Dani received the golden boot in this summer's tournament. (A feet that matches Fernando Torres' achievement at that level)
Following on from a successful summer Dani has been rewarded with a new number (12) and the promise of first team football this season. He is a player that can play anywhere behind the front man and featured on the left for Spain this summer. He is a player with vision for a pass and quality control on the ball. Qualities that Liverpool sometimes lacked last year.
Dani will need some nurturing this season to avoid too much weight being placed on his shoulders too quickly, but should be one of the stars of the future
Dani spent a large part of the second half of the 2010-11 season on loan at Norwich City in the Championship. He was typically used as a substitute, helping in a small way, to propel the club in to the Premier League before returning from loan.
No recent articles found
LFC Reds: LFC Fan discussions on Daniel Pacheco