David Amoo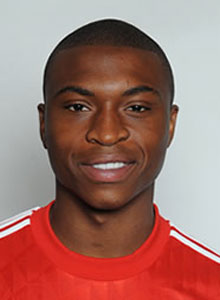 LFC Profile and Statistics
Midfielder
(Right)
Full Name:
David Amoo
Born:
13th April 1991 in London
Age:
30
Bought:
1st January 1970 from
Transfer Fee:
Free
Player Released
on 1st June 2012
All LFC Appearances:
1
LFC Goals:
0
Career Appearances:
1
Career Goals:
0
England Appearances:
Goals:
Previous Clubs:
MK Dons (loan)
David Amoo Profile
Young winger David Amoo made the switch from Millwall from Liverpool in 2007 and two years later made the step up to the reserves.
Amoo signed a new contract in the summer of 2010, and made his debut agianst Rabotonicki the Europa league on JUly the 29th 2010.
Amoo is a speedy, powerful right winger who is definetly one for the future at Anfield.
Last updated by thereds13
No recent articles found
LFC Reds: LFC Fan discussions on David Amoo