LFC SQUAD
Home >> Liverpool Squad >> First Team Profiles >> Robbie Fowler
ROBBIE FOWLER

11
The Anfield Online Verdict

Robbie Fowler is one of Liverpool's greatest ever strikers, sold by Gerard Houllier - the player returned to Anfield in January 2006 on a free transfer after nearly 4 years away from Anfield. Fowler's crucial goals towards the end of the 2005/06 season helped sway Rafa's decision to give him a one year contract extension for the coming season....

Post your verdict on Robbie Fowler...

Robbie Fowler's career stats


Club
From
To
Fee
League
FA Cup
League cup
Other
Liverpool
27-01-2006
Free
9 (5)
5
0 (0)
0
0 (0)
0
1 (1)
0
Man City
30-01-2003
27-01-2006
6000000
63 (17)
20
5 (0)
4
3 (0)
2
4 (0)
1
Leeds
29-11-2001
30-01-2003
11000000
24 (6)
14
1 (1)
0
0 (0)
0
0 (1)
0
Liverpool
23-04-1992
29-11-2001
Trainee
210 (26)
120
21 (3)
12
32 (0)
27
26 (12)
12
Totals
17000000
306 (54)
159
27 (4)
16
35 (0)
29
31 (14)
13
goals / game
0.44
0.51
0.82
0.28
Apps
Goals
Apps
Goals
Apps
Goals
Apps
Goals

Complete Player Profile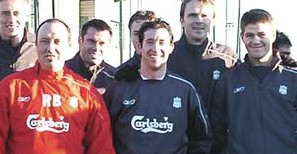 Robert Bernard 'Robbie' Fowler (born April 9, 1975 in Liverpool) is an English football player who plays as a striker for Liverpool. He has been capped for England internationally, making 26 appearances and scoring 7 goals, but his career during Sven-Göran Eriksson's tenure as manager appears to have ended. Eriksson has tended to favour the combination of Michael Owen and Wayne Rooney as the first-choice pairing for England.
Robbie Fowler: Third Highest Scorer in Premiership History
Date of Birth: April 9,1975
Place of Birth: Liverpool, England
Height: 1.76m
Weight: 73 kg
Position: Striker
Country: England
Club: Liverpool FC
Squad Number 11
Current
Fowler currently plays for Liverpool, whom he rejoined on 27th January 2006 after leaving Manchester City on a free transfer. His current squad number is 11, although he has previously worn the number 9 & 23 jerseys.
Fowler, as of March 2005, is the third highest scorer in Premiership history, only behind Andy Cole and Alan Shearer, which considering his low scoring form of the 2000s, really underscores what a mercurial and prodigious talent he was in the 1990s.
On September 2, 2005, Robbie released an autobiography called Fowler: My Autobiography about his time as a footballer and the issues surrounding him. Excerpts published in newspapers indicate damning criticism of the England management and also explanations of some of his behaviour including the notorious "line-sniffing" incident which he insists was not a reference to a cocaine habit but merely a merry jest.
Liverpool
Robbie was born on April 9, 1975 and was brought up on the Toxteth housing estate. As a youngster he was an ardent Everton supporter. He was selected for Liverpool Schools Under-14 team and was spotted by Liverpool scout Jin Aspinall. He began training with Liverpool FC once a week and signed schoolboy forms with the club. Two years later he signed on as a YTS trainee and he turned professional in April 1992 on his 17th birthday.
He helped the England Under-18 team to win the European Championship in the summer of 1993 before making a scoring first-team debut in Liverpool's 3-1 win in a first round Coca Cola Cup tie at Fulham in September 1993. The world sat up and took notice when Fowler grabbed all five goals in the second leg at Anfield two weeks later. In this way Fowler became only the fourth player in Liverpool's history to score five in a senior fixture. He scored his first league hat-trick against Southampton in only his fifth league game and his first thirteen games for the club yielded twelve goals for which his reward was an England Under-21 debut against San Marino in November 1993. He marked this occasion by scoring England's opener in the third minute.
Although unable to sustain his goal-a-game ratio throughout the season and despite being out for nearly two months with a hairline fracture, he nonetheless finished his first season as the club's leading scorer with 18 goals in all competitions. A part of the League Cup-winning Liverpool side in 1995, Fowler won the PFA Young Player of the Year in 1995 and 1996, a feat equalled only by Ryan Giggs, and unsurpassed till today. Throughout the mid- and late-1990s, Fowler was considered by many the most natural finisher playing in England. In one game in 1994, he scored a hat-trick (3 goals) in 4 minutes and 32 seconds against Arsenal, a Premiership record to this day. In 1996, he scored four against Middlesbrough, reaching a century of goals one game quicker than his mentor, Ian Rush. Fowler was ranked with Alan Shearer as one half of "two of the most awesome finishers in English Football" by commentators like Alan Parry and Fowler further sealed this reputation as he scored more than 30 goals for three consecutive seasons, up to 1997.
Unfortunately, Fowler's raw talent was fused with a notorious reputation off the field. He was derided together with several of his colleagues at the time; Stan Collymore, Jamie Redknapp and best friend, Steve McManaman, for their collective culture of being "Spice Boys" - a derogatory term that depicted the team of that time as underachieving playboys in the game. To cite one example, Fowler is widely rumoured to have had a sexual liaison with Jo Bellotti, the wife of the chief executive of Brighton David Bellotti in the toilets of the Grand Hotel following a testimonial match for the former Liverpool and Brighton midfielder Jimmy Case. Fowler was also notorious for nightclub brawls, where he suffered broken nasal bones over the years, as well his close association with controversial players like Paul Gascoigne. However, according to an article in the Far Eastern Economic Review by Stephen Thanabalan, in the midst of Fowler's scandalous tabloid exposure, the scouser unwontedly endeared himself to Liverpool fans with some of the most memorable antics in football history. In 1997, after scoring a goal in a Cup Winners Cup game, he lifted his Liverpool shirt to reveal another shirt supporting sacked Liverpool dockers, picking up a fine, but winning over many hearts on Merseyside. That year, he also won a UEFA Fair Play award for an individual merit by proving he was a good sport for admitting he had not been fouled at Highbury after a penalty had been given.
Fowler's downturn in fortunes began in 1998, after an injury kept him out of action for half the season and caused him to miss a chance to go to France 98. In 1999, Fowler was fined £60,000 by Liverpool and the FA Premier League for bringing the game into disrepute after he had mimed snorting cocaine off the white line of the penalty area while celebrating his goal against Everton. Defending himself, he said that he was getting back at fans who had insulted him with false accussations of drug abuse. Fowler also received a four match suspension from the the FA for this incident. At the same FA disciplinary hearing, Fowler received further two match suspension following a separate incident in which he had taunted Chelsea defender Graeme Le Saux over rumours of the player's sexuality, by waving his backside at him. The FA imposed a £32,000 fine for the two incidents.
When the team came under review by new coach Gerard Houllier, Fowler refocussed himself and won the League Cup, FA Cup and UEFA Cup with the Reds in 2001. In October 2001, he scored his first league hat-trick for three years, helping Liverpool beat Leicester City 4-1. He was a hero to Liverpool fans, but a combination of off-field controversy and training ground arguments with then Assistant Manager Phil Thompson, led to his departure to Leeds United. There is some speculation that Houllier had privately wanted to dispense with Fowler, whilst publicly maintaining a pretence of wishing to retain the striker's services. This may have been in an effort to maintain his boardroom support. Fowler's appearances for Liverpool had been limited by the presence of England's first choice strikers, Emile Heskey and Michael Owen.
Leeds United
Lack of first team opportunities in the run in to the 2002 World Cup was a contributing factor in Fowler's transfer to Leeds United. The transfer went ahead just one month after his hat-trick at Leicester with a fee of 11 million pounds. The transfer did not turn out to be the fillip to his international career that Fowler had hoped for. He was dogged by injury and weight problems and became a burden on Leeds' finances as the club underwent a financial collapse.
Manchester City
Fowler was transferred to Manchester City on 16 January 2003. Fowler experienced a relatively poor start to his Manchester City career, but played well in the second half of the 2004/05 season, scoring his 150th Premiership goal in the 3-2 win over Norwich City on 28 February 2005. However, his failure to convert a 90th minute penalty kick against Middlesbrough in the final game of the season prevented Manchester City from entrance into the UEFA Cup. Surprisingly, Fowler still ended the season as the club's top goal scorer.
Fowler missed the beginning of the 2005/06 season, scoring on his comeback in a reserve match at the beginning of September. In the summer of 2005 City signed England forwards, Andy Cole and Darius Vassell, adding more competition for the centre forward position.
Fowler had been tied down with injuries until he scored a hat-trick when manager Stuart Pearce started him against Scunthorpe United in the FA Cup on 7 January 2006. He had not been in the starting line up for Manchester City in the Premiership at the start of the 2005/06 season. He scored Manchester City's third goal in their famous 3-1 win against city rivals Manchester United a week later. However, this had seemed to do nothing for his chances of breaking up the partnership of Cole and Vassell, which Pearce seemed to favour. His goal celebration against United would prove to be ironic. After scoring he ran to the United supporters, holding up five fingers in reference to Liverpool's five European Cup wins, in comparison to United's two.
Return to Liverpool
On 27 January 2006, Fowler rejoined Liverpool from Manchester City on a surprise free transfer. His return was warmly welcomed amongst Liverpool fans, who still hold Fowler in high regard. Fowler remained a Liverpool fan after he initially left the club. He was in the Istanbul crowd when Liverpool won the Champions League in 2005. His contract is set to expire at the end of the 2005/2006 season, at which point the club and Fowler will review the situation. Fowler's return against Birmingham City in February 2006 was labelled by the press as the stuff of fairytale, and not only did he come on to a rapturous reception in his first appearance for Liverpool in 4 years, Fowler created several openings and had an acrobatic goal ruled out for offside.
Wealth
Outside of football, The Official British Horseracing website lists Fowler as one of the big British Celebrity horse racing owners, citing his and best friend Steve McManaman's company, 'The Macca and Growler Partnership'. Other business interests including a large property portfolio have resulted in Fowler becoming reputedly the wealthiest sportsman in Britain.
Honours
* 1993 UEFA Under-18 Championship with England
* 1994/95 League Cup with Liverpool FC
* 2000/01 League Cup with Liverpool FC
* 2000/01 FA Cup with Liverpool FC
* 2000/01 UEFA Cup with Liverpool FC
* 2001/02 European Super Cup with Liverpool FC
Last updated: June 16, 2006