LFC SQUAD
Home >> Liverpool Squad >> First Team Profiles >> Harry Kewell
HARRY KEWELL

7
The Anfield Online Verdict

Harry Kewell had a slow start to his Anfield career - failing to deliver for Gerard Houllier. He came off injured in the Champions League Final and it all looked over for him. But last season he showed glimpses of why Liverpool brought him to Anfield - and we hope next season he will build on his performances further.

Post your verdict on Harry Kewell...

Harry Kewell's career stats


Club
From
To
Fee
League
FA Cup
League cup
Other
Liverpool
09-07-2003
5000000
73 (8)
11
7 (2)
0
2 (2)
1
17 (9)
3
Leeds
23-12-1995
09-07-2003
Signed
169 (12)
45
16 (0)
6
8 (0)
4
34 (3)
8
Australia Institute of Sport
01-08-1994
22-12-1995
No appearance data available
Totals
5000000
242 (20)
56
23 (2)
6
10 (2)
5
51 (12)
11
goals / game
0.21
0.24
0.41
0.17
Apps
Goals
Apps
Goals
Apps
Goals
Apps
Goals

Complete Player Profile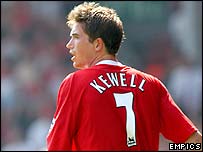 Harry Kewell (born September 22, 1978 in Smithfield, Sydney), is an Australian football (soccer) player regarded by many as Australia's all-time best. He currently plays for Liverpool F.C.. He was also a part of the Australian Team to qualify for the 2006 World Cup, being held in Germany.
Biography
He joined the English Premiership football club Leeds United on trial at 16 from New South Wales Academy. He made his Leeds debut as a 17-year-old on 30 March 1996 in a 1-0 home defeat by Middlesbrough. He made his Australia debut in April 1996 in 3-0 defeat by Chile. The first goal he scored for Leeds came some time later, in October 1997, in a 3-1 League Cup victory over Stoke City.
In November 1997 Kewell was selected to play for Australia in the country's upcoming World Cup qualifying match against Iran. At the Azadi Stadium in Tehran, in front of an estimated crowd of 120,000, Kewell scored his first ever goal for his country and gave Australia a 1-0 lead. But Iran eventually drew level and the game resulted in a 1-1 draw. This set up a tense return game in Melbourne.
A then record crowd of 85,000 - at the Melbourne Cricket Ground - witnessed the second leg of this World Cup qualifier against Iran as well as Kewell's second goal for his country . The Socceroos eventually stretched their lead to two goals. But Iran fought back and scored two vital away goals to finish the game 2-2 and qualify for the World Cup.
Playing mostly in a left midfield role and in attack, Kewell became one of Leeds' young stars in a troop of highly promising youngsters, eventually forming a striking partnership with fellow Australian Mark Viduka. The high point of this period was when they helped Leeds to the semi-final of the UEFA Champions League in 2000-01. However, the club began to suffer financial difficulties and, by 2002-03, having sold many of their best players, Kewell and Viduka's efforts in front of goal merely prevented Leeds side from being relegated from the Premiership.
Kewell moved to Liverpool for the start of the 2003-04 season, reportedly snubbing an offer from Manchester United. The transfer was highly controversial, with claims that Liverpool paid Kewell's manager a substantial fee to ensure that he ended up at Anfield. (It is alleged that, of the £5 million that Liverpool paid for Kewell, £2 million went to his non-FIFA registered agent.) This transfer has resulted in a large amount of animosity from the Leeds United faithful whenever Kewell faces his old club due to the known financial problems of the club at the time. Kewell sued Gary Lineker in 2005 for defamation around such claims made by Lineker, but after the jury failed to agree a verdict, the two parties settled out of court.
On 25 May 2005 Kewell became only the second Australian (behind Craig Johnston) to win the UEFA Champions League, playing in Liverpool's win over A.C. Milan in penalties, thus winning the coveted cup. Kewell was controversially selected by Benítez ahead of the defensive midfielder Hamann, with the aim being to attack AC Milan from the start. The gamble failed, and a limping Kewell was substituted early in the first half with a torn adductor muscle, causing some sections of the Liverpool support to boo him, as Kewell had a reputation of not being willing to try hard for the sake of the club. Since October 2004, Kewell had to play through a number of injuries, often only playing a handful of games before the injuries forced him back on the sidelines.
In November 2005, after recovering from the injury sustained during the final, Kewell voiced out to the Liverpool FC official website, saying that he had a strong desire to repay his manager Rafael Benitez for showing confidence in him by fielding him in the Champions League Final. He also thanked his wife and friends for the support given to him during his injury period. In response to the booing fans at the Champions League Final, Kewell also stated that if the fans knew the state he was in when the injury plague struck him again on the pitch after 20 minutes in the Final, perhaps people would think otherwise about him instead of the thinking of him as being a player with no desire to play for the club.
In November 2005, Australia, aided by Kewell's efforts, qualified for the 2006 World Cup taking place in Germany. It was the first time Australia had qualified for the World Cup since 1974 when it was held in what was then known as West Germany. Kewell was instrumental in the Socceroos' home leg defeat of Uruguay, with the Uruguayans being in firm control of the match until he entered the fray. Harry was again a instrumental part of the team which was the first Australian team to succeed to Round Two in the cup, and indeed score a goal at the finals round.
Kewell's form for Liverpool in the 2005-2006 English Premier League season has seen significant improvement, supporting claims that his previous form problems were the result of injuries as opposed to a lack of interest. It is generally recognised that his efforts, the more impressive in the light of those questions raised in previous seasons about his desire, have begun to endear him to Liverpool's supporters.
Harry played in the 2005-2006 FA Cup Final only to be substituted in the 48th minute due to abdominal pains. It was later confirmed by Liverpool that he had torn a groin muscle, but was expected to be fit for the world cup.
Kewell played in Australia's opening game of the 2006 FIFA World Cup against Japan in Germany. His appearance was somewhat unexpected given his highly documented groin injury.
Personal
He is married to British actress Sheree Murphy whom he met at the Majestyk club in 2000. They have two children, Taylor and Ruby. He is sponsored by Adidas.
Trivia
* In the 2002-3 and 2003-4 seasons, he was the leading scorer of left-footed goals in the Premiership
* In an interview with Matthew Johns on the The Footy Show which aired Thursday, May 18, 2006, Kewell pronounced his support of Canterbury Bulldogs NRL team.

Career Honours
Leeds United
Winner
* 1996–97 FA Youth Cup
Liverpool
Winner
* 2004–05 UEFA Champions League
* 2005–06 FA Cup
Runner Up
* 2004–05 League Cup
* 2005 FIFA Club World Championship
Australia
Runner Up
* 1997 Confederations Cup