RAFA BENITEZ
PROFILE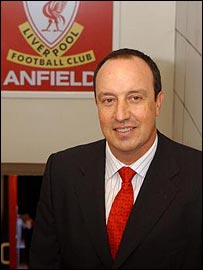 Rafael Benítez Maudes, (born April 16, 1960, Madrid, Spain), is a Spanish football manager. Also referred to as Rafa Benítez, he has been manager of Liverpool F.C. since 2004. He has previously managed Valencia CF, CD Tenerife, CF Extremadura, CA Osasuna, Real Valladolid and Real Madrid B. Benítez became the most successful Valencia CF manager in their history after just three seasons in charge. In 2002 he led the club to their first La Liga title since 1971 and in 2004 he led the club to a La Liga/UEFA Cup double. In 2005 he guided Liverpool to victory in the UEFA Champions League and the European Supercup.
Benítez became only the third manager, after Bob Paisley and José Mourinho, to win the UEFA Cup and UEFA Champions League in successive seasons and he is the first manager to achieve this with two different clubs. He became the second Liverpool manager, after Joe Fagan, to win the European Cup in his first season in charge.
Benítez has developed teams where the defenders go forward and the forwards defend. Observers have also noted his ability to turn a promising squad of individuals into an efficient team of winners. He has achieved success at both Valencia CF and Liverpool with mainly inherited squads. Of the fourteen players used in the UEFA Champions League final, twelve were at Liverpool when Benítez arrived. He has also developed an eye for spotting talented players such as Mista, Curro Torres, Luis García and Mohamed Sissoko. Benítez also favours a strict rotation policy to keep his side fresh and the players on their toes.
Benítez is married with two daughters.
Playing career
Benítez was a product of the Real Madrid cantera, joining the club as a youth in 1974. He progressed through the ranks, eventually playing for Castilla CF. However he never played for the first team and in 1981 he joined Tercera Division side AD Parla, helping them gain promotion to Segunda B. He also enrolled as a student at INEF, the sports faculty at Universidad Politécnica de Madrid. In 1979 he played five times for Spain at the World Student Games in Mexico City and in 1982 he obtained a degree in Physical Education. He also continued to play for AD Parla until 1985 when he signed for Segunda B club Linares CF. However a knee injury saw him miss almost the entire 1985/86 season and subsequently retired as a player.
Real Madrid Coach
In 1986 he joined the Real Madrid coaching staff. He gained experience with Castilla B (1986-89), Real Madrid Youth B (1989-91) and Real Madrid U-19 (1991-93) and won six trophies as a coach with these junior teams. While at Real, Benítez gained his coaching certificate in 1989 and in the summer of 1990 taught at a football camp at UC Davis in California. Between 1993 and 1995 he coached Real Madrid B in the Segunda A . He also briefly worked as assistant manager to Vicente Del Bosque.
Promotion Specialist
His first attempts at senior management away from the Real Madrid fold were lass then successful. Benítez was appointed manager of Real Valladolid for the 1995/96 season but was sacked after only two wins in 23 games with the club bottom of the Primera Division. During the 1996/97 Benítez took charge at CA Osasuna in the Segunda A but after only 9 games and one win he was again sacked. In 1997 he joined another Segunda A side, CF Extremadura and this time led them to promotion, finishing second in the table behind CD Alaves, after winning 23 out of 42 games. However CF Extremadura only survived one season in La Liga and were relegated in 1999 after finishing 17th and losing a play-off to Villarreal CF.
Benítez subsequently quit CF Extremadura and took a year out studying coaching at Manchester United, Arsenal F.C. and in Italy. He also worked as a commentator/analyst for Eurosport, Marca, El Mundo and local Madrid TV. In 2000 he was appointed manager of CD Tenerife of Segunda A and with a team that included Miguel Mista, Cristobal Curro Torres and Luis García he gained promotion to La Liga. CD Tenerife finished third in the table behind Sevilla FC and Real Betis.
Valencia CF
In 2001 Benítez was appointed coach of Valencia CF, replacing Hector Cuper. He was not the club's first choice and his appointment was regarded as a surprise by many observers and fans. However club director Javier Subirats recognised his potential and campaigned for his appointment. Despite the loss of both Gaizka Mendieta and Claudio Lopez, he inherited from Cuper a team brimming with potential. Santiago Canizares, Roberto Ayala, Ruben Baraja, David Albeda and Pablo Aimar provided the backbone of an already formidable side.
Valencia CF fans were soon won over by Benítez when he introduced a more attacking style of play. He also recruited both Miguel Mista and Cristobal Curro Torres, from CD Tenerife. Mista was top scorer at Valencia CF with 19 goals in 2003/04 and Curro Torres is now an established Spanish international. In 2002 these tactics saw Benítez led Valencia CF to their first La Liga title in thirty one years, winning it by a seven point margin over second placed Deportivo La Coruna. However the following season, the club failed to follow up on their title success. In 2003 they only finished 5th in La Liga, eighteen points behind Real Madrid. The season saw Benítez make his debut in the UEFA Champions League. Valencia CF reached the quarter-finals, after emerging from a group that had included Liverpool. However 2004 season was a different story. Valencia CF won La Liga with three games to go and beat Olympique Marseille 2-0 in the UEFA Cup final.
Benítez, however fell out with Jesus Garcia Pitarch, the club's director of sport, over control of new signings and the clubs failure to reinforce the squad with the players he wanted. These differences in opinion saw Benítez resign as Valencia CF coach in June 2004.
Liverpool FC
Liverpool F.C. were quick to take advantage of the disharmony at Valencia CF and Benítez was appointed manager of the English Premiership club on June 16, 2004. Arriving at Liverpool, he found himself in a very similar position to the one he had found at Valencia CF. The club had a talented but under performing squad that included, among others, Michael Owen, Steven Gerrard, Jamie Carragher, Dietmar Hamann, Harry Kewell, and Sami Hyypia.
Benítez had barely arrived at Liverpool when Michael Owen was sold to Real Madrid. However, he quickly reinforced the squad by signing several players from La Liga, most notably Luis García and Xabi Alonso. During his first season Benítez failed to improve the club's form in the Premiership. Key players such as Milan Baros, Djibril Cisse, Xabi Alonso and Dietmar Hamann missed much of the season due to injury and Liverpool failed to even challenge Chelsea F.C., Arsenal F.C. and Manchester United. They were even out-performed by Everton F.C. and eventually finished 5th.
However in the UEFA Champions League it was very different, despite a poor start. Liverpool began their campaign with an unimpressive 2-1 aggregate win over Grazer AK in the qualifying rounds and were minutes away from going out in the group stages before an 87th minute goal by Gerrard defeated Olympiakos 3-1 and saw the club progress to the last sixteen. Bayer Leverkusen were beaten 3-1 home and away followed by Juventus who were beaten 2-1 on aggregate.
In the semi-final Liverpool faced Chelsea F.C., runaway leaders in the Premiership and favourites to win after overcoming the highly rated FC Barcelona in a previous round. Chelsea F.C. had already beaten Liverpool in the League Cup final and twice in the Premiership. However a controversial goal by Luis García saw Liverpool win 1-0 on aggregate and reach the final against AC Milan. In a classic UEFA Champions League final, Liverpool came from 3-0 down at half-time to level the score at 3-3 and eventually win on penalties.
Recent events
For the start of 2005/06 season Benítez further reinforced the Liverpool squad signing Peter Crouch, Mohamed Sissoko and Jose Reina. More recently he re-signed Liverpool legend Robbie Fowler. The improvements saw the clubs' Premiership form improve considerably. He got his first victory over Manchester United on February 18, 2006, winning 1-0 with striker Peter Crouch grabbing the headed winner, Liverpool's first FA Cup win over Manchester United in 85 years.
Liverpool made it yet again to European Cup Final in May 2007 - meeting AC Milan in the final after once again dispatching Chelsea in the semi.
Liverpool were the much better team on the night but lost 2-1 to fail to land their 6th European Cup.
The next year the reds nearly did it again - this time Chelsea, were the semi-final opponents, who beat Liverpool in extra time at Stamford Bridge to go on to the final which they lost to Man United.
In 2008/09 Liverpool made their best ever start to a Premiership season, winning 8 and drawing 2 of their opening ten games including a home win over Man United, and ending Chelsea's unbeaten Premiership home record of 4 years 8 months with a win at Stamford Bridge.
The reds ended October 2008 top of the Premiership before falling to an unlucky defeat to Tottenham Hotspur.
Honours
Manager
Liverpool
* UEFA Champions League:1
o 2004/05
* European Supercup:1
o 2005/06
Valencia CF
* Spanish Champions: 2
o 2001/02 2003/04
* UEFA Cup:1
o 2003/04
CD Tenerife
* Segunda A
o 3rd place and promotion: 2000/01
CF Extremadura
* Segunda A
o 2nd place and promotion: 1997/98
Player
AD Parla
* Tercera Division
o Promotion: 1981/82
Spanish universities team
* World Student Games
o 5 games:1979