LFC in the Charity Shield (Community Shield)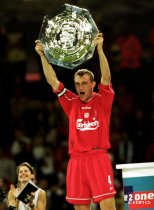 Liverpool have participated in 21 Charity Shield finals (now known as the Community Shield).
The reds have won or shared the trophy 15 times, losing 6 times.
Liverpool won the first and last Community Shield matches played at Cardiff against Man United and Chelsea, winning 2-1 both times.
Here is Liverpool's full record in the competition.
1922

Huddersfield Town 1-0 Liverpool

1964

Liverpool 2-2 West Ham United


Wallace, Byrne

1965

Liverpool 2-2 Manchester United


Stevenson, Yeats

1966

Liverpool 1-0 Everton


Hunt

1971

Leicester City 1-0 Liverpool

1974

Liverpool 1-1 Leeds United (won 6-5 on pens)
Boersma (pen scorers Lindsay, Hughes, Hall, Smith, Cormack, Callaghan)
Keegan sent off

1976

Liverpool 1-0 Southampton


Toshack

1977

Liverpool 0-0 Manchester United

1979

Liverpool 3-1 Arsenal


McDermott 2, Dalglish

1980

Liverpool 1-0 West Ham United


McDermott

1982

Liverpool 1-0 Tottenham Hotspur


Rush

1983

Manchester United 2-0 Liverpool

1984

Everton 1-0 Liverpool

1986

Liverpool 1-1 Everton


Rush

1988

Liverpool 2-1 Wimbledon
Aldridge (2)

1989

Liverpool 1-0 Arsenal


Beardsley

1990

Liverpool 1-1 Manchester United


Barnes (p)

1992

Leeds United 4-3 Liverpool


Rush, Saunders, Strachan (og)

2001

Liverpool 2-1 Manchester United


McAllister (p), Owen

2002

Arsenal 1-0 Liverpool

2006

Liverpool 2-1 Chelsea


Riise, Crouch