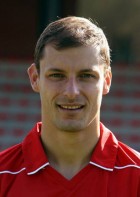 Milan Jovanovic looks almost certain to be on his way with the player deciding between offers with Anderlecht and Lille.
The 30 year old has already has his shirt number, 14, handed to new arrival Jordan Henderson.
In terms of time on the pitch Jovanovic played the equivalent of 11 full games for Liverpool.  (He made 18 appearances in total including 5 from the bench).  He has two Liverpool goals to his name.
Yesterday the player insisted he was almost 99% likely to move to Anderlecht, however he has since suggested he is considering both options.
Lille, like Anderlecht, is a strong option.

This is a good club, which plays at the top of French football, a high level competition and who will also play in the group stage of Champions League. For me, that's interesting.
Jovanovic arrived at Liverpool on a free transfer last summer, but was rarely used – and when used he was played down the wing as opposed to his more natural forward position.  Liverpool have allowed the player to also leave the way he arrived, on a free contract.