Craig Bellamy is set to rejoin Cardiff City in the next 48 hours bringing down the curtain on his second period at Liverpool.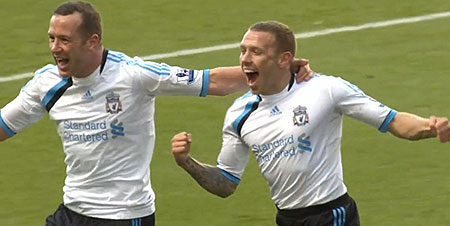 The 33 year old front man was brought back to Anfield by Kenny Dalglish on a free transfer on the transfer deadline day last August after spending a season on loan at Cardiff City.
The Welshman enjoyed some good performances for the reds, including scoring in 7 consecutive starts in the middle of the season.  He was also involved as the reds won the League Cup against his boyhood club Cardiff, and provided the assist for the Wembley winner that saw Liverpool dispatch Everton out of the semi finals of the FA Cup.
Craig has been tight lipped on the speculation
"Look, you know me better than to expect me to talk publicly about that. I've no immediate plans at the moment. What will be, will be.

"I don't think too far into the future. At this stage of my career I just have to take things day by day."
Meanwhile Brendan Rodgers intimated the club are being compassionate to his wishes.
We have been in talks with him and Cardiff.
'I had a really good meeting with Craig before I moved up here.

'He is a big Liverpool supporter but I also understand his thinking.

'He is 33 and has travelled around the country all his life, so there are compassionate reasons.

'We will look at it but we will wish him all the best and move forward.'
Craig has played for 8 clubs, with the proposed transfer to Cardiff being his 11th move around the clubs in his 16 year career.