Newcastle United and West Ham are the two front runners chasing Andy Carroll as Liverpool give the green light for Andy to leave the club.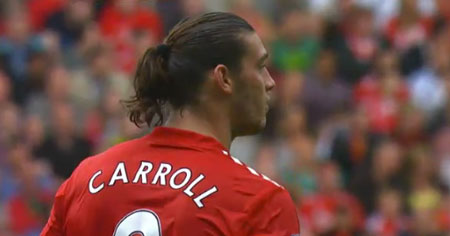 On Sunday night Newcastle United had a loan offer rejected.
The season long loan deal would pay £50k of Andy's £80k a week wages, plus give the club the option of a £13M transfer at the end of the season.  This offer was rejected but Newcastle were given enough indications that a second approach would be welcomed.
A second offer could see them pay a further £10k a week of the players wages plus up their potential option to £17M.
Meanwhile West Ham are preparing a straight out £15M transfer offer for the Geordie.
18 months in to a 5 and half year contract, Liverpool would prefer to avoid a loan deal - electing for a straight out transfer fee of £20M+.
The prospect of a return to the Sports Direct Arena has also been welcomed by former barcodes hero Alan Shearer:
"When he was there before he benefited from the fact that the team was always working to get him the ball - and he thrived on that. That hasn't always been the case at Liverpool and perhaps at times he suffered."
Carroll is due to join the rest of the Liverpool squad in North America in the next week.