Liverpool owner John W Henry has hit back in the Suarez row insisting the player is not for sale.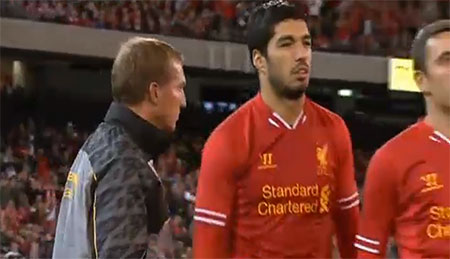 In a report in The Guardian, John W Henry said:
"We are not going to sell Luis.

"For all the top clubs it's extremely important [not to sell to a rival] but especially for Liverpool because we're not in Europe this year and have not been in the Champions League for a while.

"To sell to a rival for those positions, or one of them, would be ludicrous.

"Liverpool needs to be playing in Europe. It needs to be playing in the Champions League. That's what Liverpool football club is about."
The head of Fenway Sports Group continued:
I'm unequivocal that we won't sell to Arsenal, whatever the bid is.

I have not said it to Stan (Kroenke, Arsenal's chief shareholder) but I had a personal conversation with others at Arsenal and told him [Gazidis] we would not sell to Arsenal."
But the reds owner insisted that it wasn't just Arsenal who would face the cold shoulder.
"He won't be sold even if a foreign club comes in because we do not have time to sign a suitable replacement.

"It's a football reason. It's not about finances. That's why at this point, so late in the window, with everyone who's already moved or isn't moving, we can't replace him. So for football reasons we can't sell, and especially to Arsenal."
He also hit out at Suarez' decision making skills in selecting Arsenal in the first place.
"Players usually want to win. They want to go, generally in any sport, where they can win.

"That's why I think this particular episode is misguided. We've won more trophies than Arsenal, but I really don't want to get into that."

"I think the issue has been resolved now.

"We have said 'no'. Luis will be a Liverpool player on September 3.

"If you look at the full context of what's happened here it's jarring to all our supporters. The club has stood by him so strongly at a time when you could question whether the club should have stood by him, but they did. I wouldn't say we regret that. The manager and his team-mates were solidly behind him. They were out on the field that day. So we felt they knew more about what occurred than we did, on the field."
Case closed?