Liverpool are rumoured to be in the hunt to sign of one of Barcelona's hottest prospects.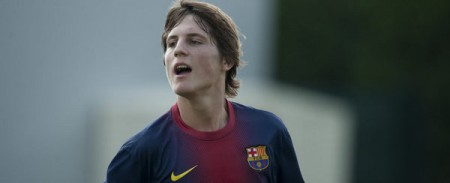 The Catalan club are hoping that 16 year old Sergi Canos will sign a long term deal, but according to the Spanish press the reds have already weighed in with an offer for the youngster.
The Spanish striker is one of the stars of Barcelona's prodigious La Masia academy and has so far been reluctant to discuss a contract extension with his current club.  His agent is already rumoured to have been in discussions with Liverpool.
Obviously this could be an attempt at extracting a better long-term deal with Barcelona, but there have been several indications recently that Liverpool have been refocussing their scouting system towards the youth setups of bigger clubs in preference to first team players in weaker leagues.
Video: Sergi Canos scoring a hat-trick for the Barcelona youth side