Liverpool are ready to offer a club record contract to Luis Suarez to reward the player for his sensational form.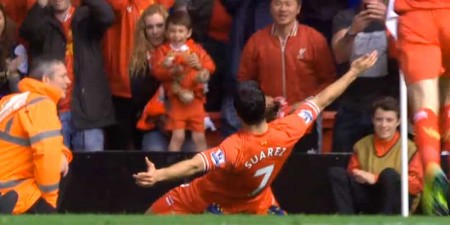 Suarez, who wanted to leave Liverpool in the summer, has been in blistering form since returning from his extensive ban towards the end of last season.
With 17 Premier League goals to his name in 11 matches, the reds are determined to show their ambition by offering the player a sackful of gold.
According to overnight reports in the Daily Mirror the Liverpool MD, Ian Ayre, has flown to Barcelona to meet with the Uruguayan's agent, Pere Guardiola.
Luis's existing contract expires in the summer of 2016, but the reds believe that a contract extension could ward off more distraction in the summer.
Relationships between the club and Suarez's agent were strained over the summer, but this meeting is aimed at repairing some of the damage from the infamous £40M + £1 debacle from Arsenal.
Crucial to these negotiations is likely to be Liverpool's continuing chase for a Champions League place.  Failure to qualify for Europe's major competition next season will almost certainly lead to Suarez departing – irrespective of whether he has accepted a contract extension.