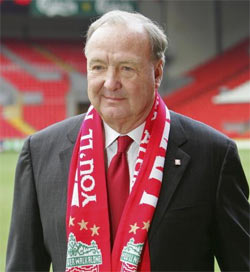 Only days after the reds broke their transfer record for an upfront fee of around £20 million, George Gillett and Tom Hicks will get back around £16 milion after the proposed transfers of both Djibril Cisse to Marseille and Craig Bellamy to West Ham United.
Djibril's deal, which was due to be tied up last weekend now looks almost done - the player having agreed personal terms with the French club. West Ham meanwhile are closing in on Craig Bellamy as they look set to lose Carlos Tevez to Manchester United.
With around £3 million banked from the Luis Garcia sale - it appears that Liverpool's new owners have pulled off the perfect media trick - breaking the record transfer fee without spending any money.
When David Moores sold the club, it was partly on the assumption that there would be significant funds available to spend on player purchases - a figure quoted at the time was £30 million. Rafa may well be happy that he got his man in Torres, but as Malouda looks set for Chelsea, Tevez prepares to head off to United and Liverpool again appear to be slipping amongst the also rans one question remains at the very forefront of our mind?
Where's our transfer budget Tom and George?