86 minutes of frustration, followed by 8 minutes of exhuberant celebration as we left the Reebok Stadium yesterday.
Liverpool, on the whole, were lucky to win – and Bolton fans will have been in no mood for hand out any more goodies to trick or treaters that night after we had already left with the sensational treat of 3 points.
The reds registered only their 3rd victory in 10 Premier League games.  And although the rise to the dizzying heights of 12th can improve the mood, it is also a clear reminder who quickly we can once again fall back down there.
Because 18 competitive games in to Roy Hodgson's reign at Anfield, the quality of football is showing a continuing trend in mediocrity.
With an outstanding talent such as Martin Kelly ready and able on the bench, Roy once again elected to utilises Jamie Carragher on the right wing.  A position he can no longer perform at when Liverpool need to go gathering points.  His inability to support Rodriguez in front of him, and similarly with Konchesky on the left, have turned the reds in to the wingless wonders. But without the wonders.
Liverpool's most succesful Premier League campaign two seasons back saw the club operate a 4-2-3-1 formation.
Liverpool now have two banks of 4, so close to each other that they may as well be classed as an 8, with an enormous gap to Torres.  One of the fans on the forum accurately depicted Liverpool's new formation as
4-4-1————–1
And sadly that isn't far wrong.  On only two occassions in the entire game did Cole and Rodriguez actually get down the line and play a cross in to the penalty area.  Neither found a Liverpool player.
We compared a couple of stats with last season's corresponding fixture (with the occassionally unreliable Chalkboards admittedly).
Liverpool passed the ball some 250 times less than the last fixture, yet bizarrely made more unsuccesful passes.  The reds previous tactics of midfield domination, playing high up the pitch and pass and move has been replaced by hit and hope, and play down the middle.  With no support for Torres on the wings, with his back to goal, trying to bring the ball down and fend off two or three defenders – it is no wonder he looks nowhere near the player from previous seasons.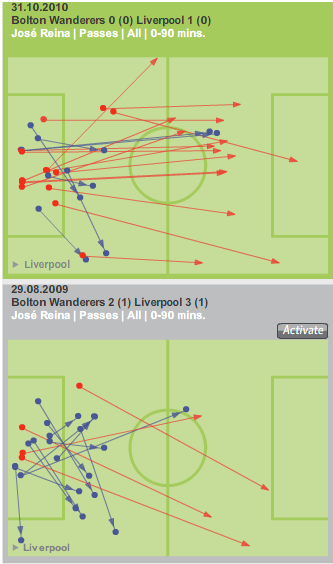 Reina saw much more of the ball, but rather than electing to build up play like last year the reds now adopt a strategy of long punts upfield.  Only twice did this strategy find a Liverpool player.  Usually Torres who would then be pounced upon.  The red arrows indicate the failed hoofs.
Kyrgiakos and Skrtel have both had impressive starts to the season and have arguably been two of only three players able to hold their heads high at present.  Carragher's selection at right back is a poor tactical choice by Roy.  Against Bolton he was often beaten for pace, at one point in the first half he was skinned over only 10 yards.  He fails to overlap with Rodriguez on the wing and whenever he did find himself advanced to the half way line – his preferred method is to play the ball back.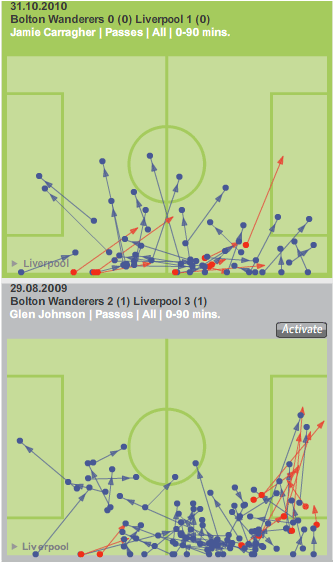 In all Carragher played around half the number of passes as Johnson did in the same game last season, and failed to use the wings effectively to get crosses in to the box.
But a major worry for Liverpool will also be Gerrard's reduced involvement in play with the reds new more direct approach.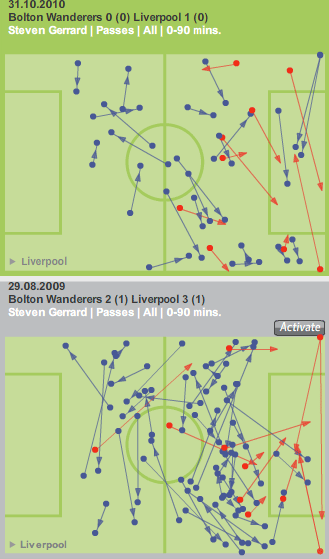 Gerrard sees a lot less of the ball under Liverpool's new system.  Without wingers pushing forwards he has nobody to pass to out wide on the wings, forced to keep the ball moving through the middle – much easier to defend against.  Whereas most of his play used to be 15 yards outside the penalty box he now barely gets a touch in that position.
Unfortunately Liverpool's problems are not rooted in playing Torres up front on his own, the reds problems are mainly tactical.  Liverpool are not playing positive attacking football but relying on two banks of 4 players, rigidly fixed in position – failing to move up the pitch quick enough.  They play too deeply, and the right and left midfielders (because they are not playing like wingers) are not being allowed the freedom to move forward.
The so-called attacking midfielder (Gerrard) is sitting only 5 or 10 yards in front of the midfield and the striker is isolated.
Liverpool won at the Reebok because Bolton's attackers were poor and because Torres, with a moment of magic, produced a backheel that nutmegged a defender.
If our top footballers continue to be asked to play pub football for the next 18 games then expect another stack of shocking results like we have had so far this season.