If you're after an unequivocal defence of Luis Suarez then I'm about to let you down.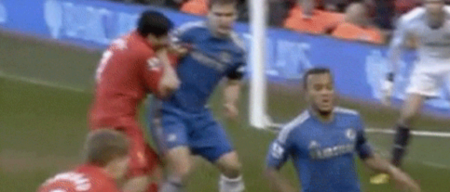 No matter how 'bitey' his action was on Ivanovic, and suggestions are it wasn't particularly bitey, it was a stupid thing to do.
Liverpool can take some credit in the speed of their response, and Suarez too in apologising both to the clubs supporters and to Ivanovic himself.
There will clearly be some in-house disciplinary action, and the FA are set to review the footage also.  Just what action they take will be of interest.
As has been pointed out Jermaine Defoe was handed a yellow card for a similar offence several seasons ago.  A second yellow for Suarez in yesterday's game would have seen him sent off and punished with a one match ban.
The Dutch FA however were tougher on Suarez and handed him a 7 match ban for a biting incident while playing at Ajax.  (Ajax initially banned the player for 2 matches themselves and fined the player).
Either way - its fair to assume that Suarez has probably played his last game this season.
Now - I've been firmly in the camp that believes the reds would sell Suarez this summer for a number of months now.  Liverpool's progress has been somewhere between non-existant and minor this season.  Certainly, the run of dismal results against both the teams at the top and the bottom don't suggest that LFC have the personnel on the field or off it to make a sustained challenge for the top 4 next season.
Suarez remains one of the world's best footballers and should be playing for a club in the Champions League.  He should be playing at a club where he has a better than 50% chance of winning a trophy every season.
He is head and shoulders above any other Liverpool player in terms of quality - as well as controversy.
The recent biting incident will do little to impact his enormous transfer value.  When Torres left, Dalglish quickly identified Luis Suarez as his replacement and he more than met our expectations.  So suggestions he is irreplaceable are wide of the mark.  It will be sad to see him leave, but I'm sure the clubs owners won't mind too much when they ring the cash register.
The big question is whether Liverpool are as strong a pull as they were even two years ago - and whether Brendan Rodgers has the ability to replace Suarez with another genuine talent.