Much has been written on the subject of Luis Alberto Suárez Díaz since he nibbled at the juicy tender arm of Branislav Ivanovic back in Spring.
Quite a lot has been said by the player himself since the moment the final whistle sounded at Anfield to end the 2012-13 season.
There was a sense around many at Anfield, even before he went a bit bitey, that he could be moving to pastures new in the summer.  With 30 goals under his belt he carried Liverpool for large swathes of the season.  Only the January arrivals of Coutinho and Sturridge caused a blot on his total domination of Liverpool's team.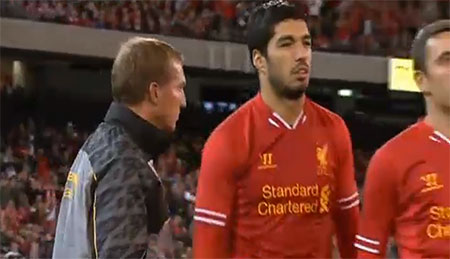 As hard as it is to look dispassionately at Liverpool FC - let's face it: Luis Suarez is a better player than playing for a team that finishes 8th and 7th - not even in the Europa League placings for the coming season.
We've been here before of course.  Fernando Torres was the player the fans would hero-worship.  Until he went to Chelsea. Who we hate. And he knew it.
So, as the summer wound on, it got uglier and uglier until a crescendo of ugliness arrived when Suarez backed out of a pre-season trip and then spoke to British newspapers telling them he wanted to leave Liverpool.
This happened just 7 weeks ago.
We all know what happened - his boss said No, he moaned for a bit, trained on his own for a bit, smiled a bit, trained with his mates again and then we arrive to tonight.
His ban is finished and he is ready to be welcomed back by the manager and many fans.  Almost as if nothing has happened.
But the countdown clock for Suarez' time at Liverpool is still ticking down.  Just as with Torres' January exit, it is conceivable that he may only have a couple of months left, or he may see out the season.
Suarez has offered no apology for his actions this summer, and to be fair it probably wouldn't be welcomed.  Wayne Rooney has acted similarly at Man Utd, and started the season in good form - already supplying a number of goals for the men from Old Trafford.
Every Liverpool fan has had a reality check that Suarez' loyalty to Liverpool lies firmly within the terms of his contract.
Whilst he can count on support on the pitch from the fans, his performances are likely to be placed more firmly under the microscope.  Liverpool fans are going to be far less supportive of the almost certain misdemeanours that he will involve himself in.  The special bond he had with the fans has been broken, and even another 30 goals isn't going to win him back the almost unlimited support he had received.
It is a stark reminder to football supporters that only we can display unwavering loyalty to our club.  Players, like all other staff at a club, are just passing through.
We hope we can enjoy the remaining time that Luis Suarez wears the Liverpool shirt.  Hopefully scoring goals, securing us victories and helping us improve on our recent lacklustre league finishes.
His reputation with the fans is forever tarnished but he does have the opportunity to redeem himself.  Goals and performances are now required to enable him to leave Liverpool with his head held high.