Well, I had a brilliant night last night. Went to the Life Of Bill Shankly story in Crosby Civic Hall. A must for any true red. Hopefully it will be on again next year.
The show is written and produced by John Keith who sort of plays the part of Shanks. He does a great impression of his voice. And former Brookside actor Kenneth Cope is the narrator. So he tells the story of Shanks from when he grew up in Glenbuck all the way up to when the great man sadly passed away. But all the way through the story telling, John Keith comes in as though he is actually Shanks and he's explains something about what's just been said, in that very distinctive voice. Great stuff and very funny!!
Then at certain points in the show, former players who played for Shankly come in and tell a few tales from their experience with him. First it was Ian St John, then big Ron Yates and then Chris Lawler.
One tale from the Saint was about when Shanks went up to Scotland while he was at Motherwell, to "tell" him that he'll be playing for Liverpool. Apparently things were in place for him to move to Newcastle so the Saint said he was a bit stunned by this and was lost for words as he tried to think of a reason to get out of going down to Liverpool the next day. "I won't be able to bring the little one down" he said. Straight away Shanks replied "your mother in law can mind the kid!".
So the next day he and his better half were on their way to Liverpool in a Rolls Royce – which was very special to the Saint because he said he had never even seen one before   They had a good look around Melwood (which used to be a cricket pavilion, never knew that) and a good look around Anfield, then went up to the boardroom. He said he and his girl were sitting there as Shanks went on talking about the in's and out's of football and after a while, he said Shanks nodded off while he was talking about some player. So the Saints girl said to him "Thank god for that, he doesn't shut up does he?"!
But after about ten minutes Shanks wakes up and says, as though he hadn't fell asleep "Yes son, I tell you he's some great player he is"!!
Ron Yates told a great tale which was hilarious from when he made his debut for Dundee Utd. He said he was catching the train to the hotel where he'd be meeting up with the team. The train had left and was into about half an hour of the journey, when this man came in the cabin he was in and sat down. He then got this bottle of whiskey out and said to Ron, "would you like a drink son?". To which Ron replied "Oh no, I can't. I'm playing football today, I'm making my debut for Dundee." The man stretch out his hand and said "oh that's funny. I'm the referee of that game"!! He then proceeded to drink the whole bottle of whiskey on the train!!
So before the players came out onto the pitch, the ground was frozen. He said he seen the ref going down the tunnel to check the pitch, bouncing against the walls as he went. Expecting the game to be postponed because of the frozen pitch (and I imagine it really must have been bad, because in those days they weren't as picky as they are now) the ref had a look around and shouted "game on lads".
So the ref tosses the coin for the kick off, as it came down the ref missed the coin and as he went to bend down to have a look, he slipped and landed on his face on the frozen ground!! Obviously still feeling the whiskey!!
There was so many more tales and it would take me forever to type them out, let alone remember them all.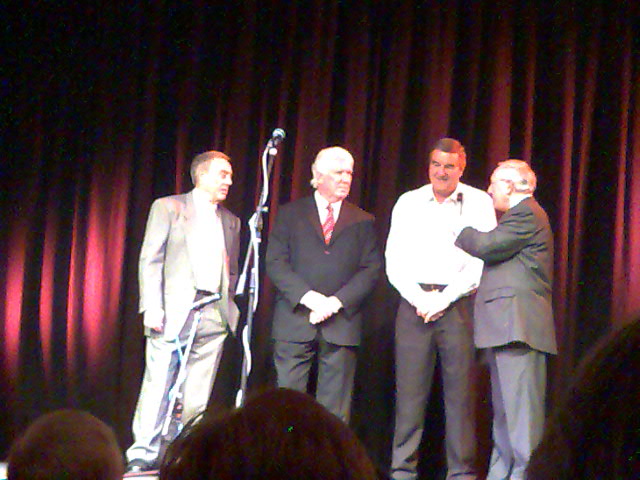 But it really was a great night. It went on for three hours but the time flew by. It finished off with a raffle, a song written for Shanks by this fella (can't remember his name, sorry) and then to top it all off, this same fella done You'll Never Walk Alone, just him and his guitar. Everyone got up on their feet, two pensioners in front of us held their scarf aloft, The Saint, Big Ron and Lawler had their arms around each other and we all sung along as loud as we could. A very fitting and emotional moment, for the tribute of the great man we had gone there to see and hear about. Bill Shankly.
Ian St John said near the end reflecting on Shanks "under the statue of Bill at Anfield, there's this writing that says, 'he made the people happy'. And we all know it's true and he will always make the people of Liverpool happy"
I couldn't agree more with that Saint!
Afterwards, we went for a couple of drinks in the Liver Hotel pub, which was just over the road from the Civic Centre. Guess who walks in for a pint? Big Ron!   He only stayed for a couple, but just before he left The Saint walked in as well. From learning that last orders had gone and they weren't serving anymore, he said 'ah well, we're f***ing off then'.
If it's on again next year, make sure you try go. A must for a true red!!