Some call it 'The Engine Room' – we call it 'in between defence and attack'.  It's fair to say, whatever you call it, that Liverpool have been blessed with some of the greatest midfielders in World Football.  Players who can get stuck in, dominate possession, pass and move, start attacks or even fire the ball in to the net.

In the third part of our series, several of Anfield Online's contributors have toiled away in our own Engine Room and come up with their choices for Liverpool's Greatest Ever Midfielder.
Shortlist: John Barnes | Ian Callaghan | Steven Gerrard | Jan Molby

John Barnes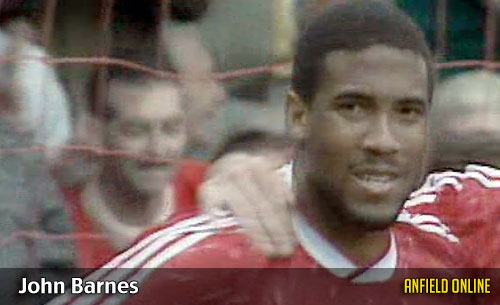 I always loved watching Barnesy play. He signed for us when I was just 10 years old, and was a revelation. As a kid, Barnes had everything you wanted, skills, technique and a sweet left foot. I don't know if my soft spot for him came from being a lefty myself and trying to reproduce some of his free kicks with my mates, or it was from his generous, happy go lucky attitude that seemed to rub off whenever he opened his mouth.
The partnership he created with Beardsley, Aldridge and Rush was for the most part quite simple unstoppable. And whilst he was never quite able to transfer his magic to the England national side – for which he received a regular drumming in the newspapers – for me, that just made what he did for us even more special.
He had so many elements to his game. A dead ball specialist, he rarely if ever blasted the ball unthinkingly at the goal, but instead operated with an almost clinical precision, choosing his spot carefully and curling the ball with effortless grace into the net.
A square, well built player, Barnes nevertheless had a tremendous burst of pace that took opposition defences by surprise time and again. Add to this a love of taking on his man one on one, and the ability to hug the touchline. Not only a regular scorer, Barnes assisted his fellow strikers on uncountable occasions with pin-point crosses that always seemed to find their man. A proof that Barnes had a game intelligence that far surpassed the average player, and a generosity to make the right pass even having done the majority of the work himself.
In the later stages of his career, Barnes began to find himself struggling with injuries, and as opposed to flying down the wing instead took up a position in central midfield. Barnes was able to use his passing and playmaking skills to great effect, and was an inspirational figurehead to the Liverpool side and fans alike.
With a fantastic scoring record of just over a hundred goals in four hundred games, his impact on the Liverpool side is made even more fearsome. A true legend, an example and a gentleman even in the face of racial abuse.
Ian Callaghan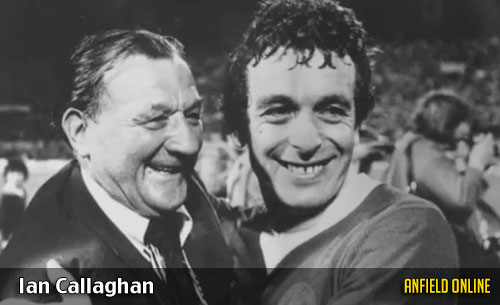 857 games, 5 league titles, 2 FA Cups, 2 UEFA Cups, 1 European Cup and a World Cup can't be wrong, so for me our greatest midfielder has to be Ian Callaghan.
A boyhood Liverpool fan who came through the very successful youth system at Anfield. From making his debut in 1960 to his last game in a Liverpool shirt in 1978 he gave his all for the club.
He started out as a right winger when Liverpool were in the second division, he ended as a central midfielder when we were the kings of the Europe.
Though never prolific, he did scrape 68 goals but that doesn't do justice to the amount he created. Cally had great technique and from the right wing would put cross after cross into the box for our forwards to attack (and usually score from). His most famous cross is probably the one for St John in the 65 Cup final against Leeds.
Ian Callaghan is certainly Liverpool's greatest midfielder.
Steven Gerrard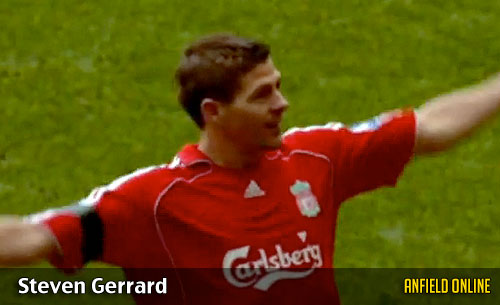 A man who is destined to go down in Liverpool Football Club history as one of the all time best to wear the red shirt. He's already made history and it's a mouthwatering thought to think that he could yet make even more. He has it all.
Coming through the Liverpool ranks, Gerrard made his first appearance for the reds, coming on as a late sub at home in November 1998 against Blackburn Rovers. Under the guidance of then Liverpool manager, Gerard Houllier, Gerrard went on to make a further more 12 appearances in all competitions of the 98/99 season. The following season Gerrard was staking his claim for a starting place in Liverpool's side and it was in December when he scored his first goal for Liverpool against Sheffield Wednesday. It was a goal that made people stand up and take notice of this soon to be important Liverpool player. He took ball from outside the box, he left the respected defender 'you'll never beat' Des Walker cluelessly standing there in awe and blasted the ball in the back of the net. He was soon making a habit of leaving players and fans alike, in awe.
He did have tough times at the start of his Liverpool career though. He was troubled with back problems and his discipline was raw at times. But it was that raw edge in Gerrard's game that made you see that this player had passion for how he plays football and that he was a born winner. As time went on, Gerrard overcome his back problems and grew into astonishing physical fitness and strength. He would be all over the pitch wanting the ball and trying his best to influence the game. He was still slightly rough around the edges where his discipline was concerned but he had the professionalism to keep his head and excel with his football.
The 2000/01 season was for me, the season that we saw the complete Steven Gerrard on a regular basis. Liverpool were successful in winning the League Cup, the FA Cup and the UEFA Cup that season and Gerrard was a major influence in this success. The then barely 21 year old midfielder was a player taking many games he played in by storm.
But he was to get even better. As time went by, it was all too obvious that Gerrard could play anywhere on the pitch and adapt to it with the ease of a veteran winger or defender. His influence on the team by his football was so immense, he was made captain of Liverpool in October 2003. And as captain, he's continued to inspire and influence his fellow players up until this day. Most famously, on that epic night in the European Cup Final in Istanbul. He embodied the true spirit of the Liverbird in the Ataturk Stadium that night. He scored the first goal to get the famous comeback in motion. He burst into the AC Milan defence like a man possessed which led to the equalizer. And he dragged up anyone who wasn't up for the fight – players and fans alike – to make sure we were victorious.
You can go on and on about the famous goals and play Gerrard has been involved in for the reds. But when you see him play his football, it's a pleasure and a privilege. He is very fast. He is one of the best passers of the ball this decade has seen. His shooting can be both ferocious and classy. He's a brilliant header of the ball. He's a great tackler. His vision and reading of the game is brilliant.  He's two footed. He's got bags of determination and desire. And when the team needs him the most, he's usually there to make something happen.
Words are hard to do him justice. You just have to see him play and it tells you everything. Steven Gerrard has to be Liverpool's Greatest Midfielder.
Jan Molby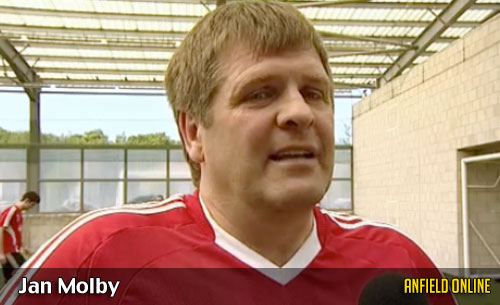 After Liverpool's 4th European Cup triumph off went Graeme Souness to Sampdoria and all eyes were on whether Liverpool could continue their rich vein of trophy hunting.  Within 6 weeks Joe Fagan brought in a relatively unknown Dane who would go on to become a lynchpin of arguably the greatest Liverpool side ever assembled.  A Liverpool side that under Kenny Dalglish would win even more games and score even more goals than Liverpool had before.
The unknown Dane wasn't unknown for long as overnight his scouse accent appeared and he eventually forced his way in to the team.
Although he failed to truly make a mark on the first team in what would be Fagan's second and last season in charge – it was Kenny Dalglish who restored the faith in Jan.
He spent much of his first season rotating from sweeper role in to midfield.  In Dalglish's debut season he scored 21 goals for the reds and nobody can forget his memorable man of the match performance at Wembley – as the reds beat Everton 3-1 to win the FA Cup and complete Liverpool's only ever 'double'.
Despite being a big lad Jan had enough pace to score sensational goals, like his (until recently) mythic goal against Manchested United at Anfield when he beat about 4 players before attempting to put a large hole in to the back of the net.
Jan did suffer with injuries but often managed to reclaim a place in the side, be it at the expense of a defender or a midfielder – such was his versatility.
He had his off field problems, problems that in the modern game may have meant the club walking away from the talented Dane.  But for me – for a club so steeped in the traditions of pass and move – there was no finer passer of the ball to ever grace Anfield as Jan Molby.  Xabi Alonso would have been just about fit to lace his boots.
What do you think? Who is right? Have we missed the real standout winner? Who is your greatest Liverpool midfielder of all time?
Vote here and leave your comments below.
[poll id="17″]