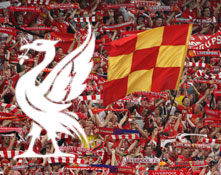 After 20 games of the Premier League season, the Liverpool board dispensed with the services of Roy Hodgson.
Liverpool had won only 25 out of  a possible 60 points in the Premier League, and were lying in 12th position.
In the 4 Premier League games since Kenny Dalglish's arrival as a caretaker, the reds have picked up 7 points out of 12, and have tentatively moved in to 7th place, admittedly with a large gap to 6th and 5th, and with a couple of teams behind with a game in hand.
Only last week Damien Comolli insisted that Kenny Dalglish would be amongst the candidates for the next permanent Liverpool manager to be announced in the summer.
But what could Dalglish do in the short term to make him guaranteed for the job?
With the reds still in the Europa League, and with the Dalglish playing for a maximum 54 points (42 still to play for), what would need to happen for John W Henry and Tom Werner to call off the search?
We asked LFC fans who follow us on our Twitter page and our Facebook page for their thoughts.  
Here are a selection of their responses.
@AbstractView – Ambitious to see us higher than 6th, imo. Personally feel owners already keen on retaining him.They see his impact so far
@craigs3 – Results are important, but style & passion of play and great spirit in the club is vital too. Obviously, new players needed.
@onetotwo – top 5 (and hopefully a decent shot at the EL) was my initial reaction. Hard to say who FSG are comparing him with though.
@rodrobson6960 – I reckon he is doing a great job as our spirit is returning daily. He talks so much sense. The players and fans love him.
@Raven_Risoliere – European football next year
@petermac_71 – League top 6 after all our probs at the start of the season and a good run in the europa league maybe winners will do.
@SPMurray7 – Top 5 guarantees him the job top 6 makes it almost impossible to fire him especially given the position when he took over
@ianyoungkop – I think top 6 and us playing football the when we did against wolves on Saturday full houses every other week wouldn't hurt
@TheLando618 – I think positive football and Europa league qualification. Definitely if he got us to Champions League.
@MattB_UK – For me: 5th, with a long term strategy for bringing in new players, replacing the dead wood, and introducing youngsters.
@IH8MU4EVA – I'd say top 8 finish and a decent run in Europa. But he's probably gonna get kept on anyway
@bapsman – Be himself, that should be it.
@abdulgomaa – We need results to base that decision on.. so far it's been good. Could've been better.. so I think it's best to wait and see.
@fletchico – Top six and win the Europa. After a big final win they would find it very hard to get rid of him.
@RWHegarty – I would say if he makes Europe he is pretty much nailed on, that & good results against the teams above us would guarantee it
Follow us on Twitter and read more comments on our Facebook page