Liverpool have a chance to secure qualification to the last 16 of the Champions League with a game to spare in tonight's penultimate group game in Spain.
The reds have travelled to Seville to enjoy warm temperatures and hopefully build on the last four results.  Sevilla held Liverpool to a draw in the game at Anfield - a game that the reds arguably should have won.
The reds travelled without Joel Matip who wasn't 100% for the trip after sustaining an injury before the weekend's game over Southampton.
Following tonight's game the reds will stay over in Spain, returning to Liverpool after a local training session tomorrow.
Spartak Moscow v Maribor is currently ongoing in the Group's other game.
Our live updates from this game are below.
As it happened...
LFC's U19's have set the standard
Early today, Liverpool U19s beat Sevilla U19's in the UEFA Youth League.
Their big 4-0 win ensured that the young reds, managed by Steven Gerrard, go through to the last 16 of the tournament. Will the senior Liverpool side be able to match their efforts?
LFC U19s have demolished Sevilla 4-0 in the UEFA Youth League and head into the last 16.

First team - you're up next! ???? pic.twitter.com/bKv8pDfM5c

— Anfield Online (@anfieldonline) November 21, 2017
Confirmed LFC Team
Here's the starting eleven for Liverpool
Karius, Gomez, Klavan, Lovren, Moreno, Wijnaldum, Henderson, Coutinho, Mane, Salah, Firmino.
And tonight's subs if required
Mignolet, Milner, Sturridge, Oxlade-Chamberlain, Can, Solanke, Alexander-Arnold.
And the Sevilla side for tonight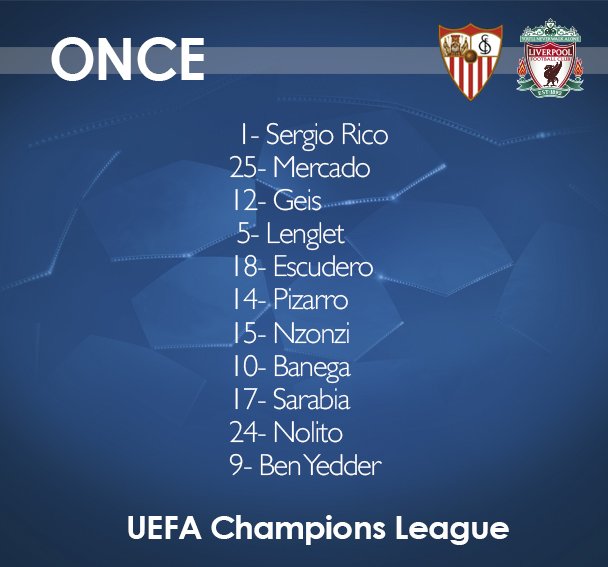 Klavan on reds recent form
Ragnar Klavan, who's arrival into the side has seen the reds win 4 consecutive games joined Jurgen Klopp at yesterday's press conference. He was asked about LFC's recent form.
"You can see in the last month there's been that type of mentality from our team on the field.

The last few weeks have been good. We've conceded only one goal in four games.

It's about the whole team's effort - it starts from the top to the bottom. You can see that everybody is investing more defensively and you can see during those games that we've been really compact."
Please continue tonight...!
Result from Group E
This kicked off earlier and has now finished
Spartak Moscow 1-1 Maribor
It means that Maribor can't qualify from the Group - but it also means that if Liverpool can win tonight then they will not just qualify but will win the group.
Pain in Spain?
Sevilla have a 25 match unbeaten record at home, whilst Liverpool haven't won their last 3 games in Spain.
That is going to need to end tonight if the reds want to secure qualification.
Sevilla currently have the third best home record in European football.
There's no doubt this is going to be the reds toughest game in the competition so far.
Klopp feeling positive ahead of the game
Klopp has just been asked about the fact no away team has won at this ground for a year:
"Well I think Hoffenheim had a longer run when we played there. And Sevilla haven't played us here.

"I've prepared the boys the best I can so we will see.

"Our home performance (v Sevilla) was good but we need to do better. We need to be aggressive - we have grown since then and that's the reason we have a chance to go in the next round.
KICK OFF
We are underway in Seville.
Sevilla - in white shirt and shorts with black socks. Liverpool in all red.
Terrific atmosphere at the start of the game.
GOAL!!!
2' Sensational start from Liverpool. Roberto Firmino makes it 1-0 and a hush descends the stadium.
Coutinho sent in the corner, Wijnaldum gets a head on it and Firmino is at the back post to drill in with his left foot!
9' Some minor concern after Firmino jumps at a cross and lands awkwardly. He's down for a bit before getting up and rubbing his lower back.
Play continues. Liverpool have made a very positive start.
10' Henderson clatters into Ben Yedder just outside the corner of LFC's box.
Free kick for Sevilla in a dangerous position. It's sent over deep into the box.... but Karius catches cleanly.
Side netting
13' Nolito does some good work inside Liverpool's penalty area and Sergio Escudero is forced to the touchline before firing into the side netting.
GREAT SAVE
Henderson gives the ball away in midfield and Ben Yedder fires - but Karius tips it on the post - well done Loris!
Seconds later Ben Yedder drills the ball narrowly wide.
Wow!
Chance
22' Henderson makes up for his mistake with a great through ball - and Firmino is through on goal - but the keeper gets his hand to the ball and it goes out for a corner.
GOAL!!!
22' Sevilla 0-2 Liverpool
From the corner - it's almost a carbon copy of the first goal. Sadio Mane with a diving header at the back post after Firmino's flick on.
Wonderful stuff.
Klopp spoken to by the referee. One of the 'ball boys' pressed the ball back at Gomez and Klopp basically told him not to do that.
Think the German manager is a little bit excited.
One moment Sevilla are having a couple of gilt edged chances to equalise and the next minute Liverpool have made it 2-0.
It was a fabulously well cushioned header by Sadio Mane for the goal. His first Liverpool goal since August.
GOAL
30 minutes gone
Sevilla 0-3 Liverpool
Wonderful pace from the reds - Mane does all the work - his shot is pushed across the area and Roberto Firmino gobbles it up.
Brilliant
39' Mo Salah's been quiet so far - he's hardly had a look in with Mane and Firmino amongst the goals. But he has a chance at goal with his left foot from outside the area - but it's high and wide.
Alberto Moreno collects a yellow card for a challenge in his first return to his former stadium.
41' Pizarro got lucky there for Sevilla. Just on the half way line he went in with a two footed challenge but Mo Salah sprang up in the air and dodged the incoming challenge.
Liverpool look like they could score every time they go forward at the moment. Mane's got the ball now - he tries to find Salah inside the box but the keeper can come out to get that one.
Yellow card
It's one for Sevilla just before half time.
Ever Banega gets shown the card for a push in the back of Coutinho
HALF TIME
What a great half from Liverpool
Sevilla 0-3 Liverpool
The reds took the early lead through Firmino and then a great save by Karius kept the scores level. The reds scored straight away with an almost identical move to the first through Mane before Firmino added a third goal without even looking at the ball as he hit it!
Liverpool could be about to win the group a game early and head into the knockout stages.
SECOND HALF
We're underway.
There was a half time substitution for Sevilla with Steven N'Zonzi off and replaced by Franco Vasquez.
GOAL!!!
51' And Sevilla have grabbed one back from a free kick, that was foolishly conceded by Alberto Moreno.
Ever Banege swings the ball in and it's a good header from Ben Yedder who rises above Moreno.
Sevilla 1-3 Liverpool
Sevilla dominant
55' Well Sevilla have definitely come out in the second half determined to avoid more misery and they look very up for it.
They are throwing crosses in to the middle of the box at every opportunity - but Lovren, and Moreno are heading them away.
That goal has given their fans a bit of a boost - it would be a great time for the reds to put their foot on the ball and try and find a 4th.
Penalty to Sevilla
And Moreno concedes it. Looks like he stood on Ever Banega's foot.
GOAL
Well well
60' Sevilla 2-3 Liverpool
Alberto Moreno conceded the foul and Ben Yedder steps up and scores the penalty. He has to retake it though and puts it in the other side.
Not a great 15 minutes for Alberto Moreno. Liverpool have lost their heads a little but Sevilla have been excellent.
Double change for Liverpool
Klopp's seen enough.
Alberto Moreno and Phil Coutinho head off and on comes James Milner and Emre Can
63 minutes gone
Yellow card
68' Henderson makes a contribution in the 24th minute of the second half - when he collects a yellow card for a foul.
The Liverpool captain has not been a calming influence in a relatively mad second half so far in which the reds haven't seen much of the ball at all.
Liverpool have just picked up the pace a bit now. The Sevilla keeper looks ropey and palms a ball away he should have saved.
Mo Salah should have done better with his follow up shot but the reds are now in the Sevilla half at the least.
Sevilla substitution
72' They've taken off Nolito and brought on Luis Muriel.
They've got 18 minutes to get themselves an equaliser.
Here come Sevilla again - Mercado crosses in and Lovren is forced to head behind from a corner. From a corner, Karius punches it up field.
Liverpool run up the pitch with Salah, he feeds Emre Can but he's stopped by Ever Banega. The German should have done better.
Sevilla goalscoring sub
82' Off goes the double goalscorer Ben Yedder and on comes the goalscorer at Anfield Joaquín Correa.
Yellow card for Emre Can.
Final 5 minutes
A real game of two halves.
Liverpool lead in Spain 3-2 - can they hold on and end our own poor recent record in Spain and Sevilla's excellent home records?
Final LFC sub
87' Oxlade-Chamberlain heads on for Mo Salah, who amazingly, hasn't got a goal or an assist in this game!
Injury time
We've got 4 minutes of it to play.
Liverpool trying to shut down Sevilla now.
GOAL
From a corner - the third minute of injury time and Sevilla score a 3rd goal.
Sevilla 3-3 Liverpool
Wow.
FULL TIME
Well well well
Sevilla 3-3 Liverpool
Liverpool remain top of the group but they shouldn't have allowed Sevilla back into this game.
3 goals for Liverpool in the first half. 3 goals for Sevilla in the second half.
Thanks for joining us - we'll be adding to our match report shortly with our analysis of tonight's game.
Second half - there simply weren't enough Liverpool players willing to put their foot on the ball and prevent Sevilla pouring forward.
A lesson for some of them to learn.
Next up - Chelsea on Saturday evening.