The Champions League group stage returns this evening.
Liverpool, along with each of the other top 31 European clubs, aiming to reach the final in Madrid in 2019.
Tonight's Liverpool v Paris Saint Germain game is one of 8 games being played tonight.
Both Liverpool and French side PSG have flawless domestic records this season - both with 5 wins out of 5.  PSG have scored 17 compared to Liverpool's 11, but the reds have conceded just twice in the league compared to four for the Parisiens.
Both Kylian Mbappe and Neymar have had a mini-break from the French league in the last game, so they are likely to be feeling refreshed for this game.
The reds have injury concerns principally to Roberto Firmino who suffered an eye injury during the weekend's victory over Spurs.
PSG are the top ranked side in the group, with Liverpool coming in as third seeds.  Italian side Napoli travel to Red Star Belgrade tonight hoping that they can end the evening on top of the group.
Klopp comes face to face with fellow German manager Thomas Tuchel, who took over the reigns when Klopp left Dortmund in April 2015.
Follow the game with us here.
As it happened...
Tonight's game is live on BT Sport in the UK
???? Jordan Henderson
???? Jürgen Klopp

"We have been there, but we haven't won anything."

Liverpool start their Champions League journey for the season at Anfield, and Neymar and Mbappé are in town ????#NoFilterUCL pic.twitter.com/wHwS8dXOza

— Football on BT Sport (@btsportfootball) September 18, 2018
Confirmed LFC team - two changes
There's a more English feel to tonight's LFC team
Sturridge comes in for Firmino. Henderson in for Keita.
Liverpool: Alisson, Alexander-Arnold, Gomez, Van Dijk, Robertson, Milner, Henderson, Wijnaldum, Mane, Salah, Sturridge.
Subs: Mignolet, Fabinho, Keita, Firmino, Moreno, Shaqiri, Matip.
PSG Team
They've got some players haven't they.
Kylian Mbappe and Neymar back in the Paris side. Neymar was rested whilst Mbappe was serving a suspension.
PSG: Areola, Silva, Kimpembe, Meunier, Bernat, Marquinhos, Di Maria, Rabiot, Mbappe, Cavani, Neymar
Subs: Cibois, Kehrer, Choupo-Moting, Diarra, Draxler, Nkunku, N'Soki
Players out on the pitch and warming up.
Mbappe and Neymar receiving plenty of attention from the photographers.
Klopp: I told the boys normally you meet a team like PSG in the quarter final so we are really lucky Firmino almost perfect. Daniel in top shape.
Players head on to the pitch.
Champions League anthem kicks in.
It's back!
KICK OFF
We're underway. PSG win the toss and LFC are kicking towards the Kop first.
5' Early corner for the reds after Silva cuts out a ball into Sadio Mane..
... Liverpool maintain the pressure and there's another corner coming in now ...
Ball arrives at Van Dijk and his shot is on target and tipped over.
Another corner...
8' Milner drills close and it's tipped around the post after more domination from Liverpool.
PSG finally get a foot on the ball.
9' Neymar appears to be struggling after taking a big tackle from James Milner.
ANOTHER Liverpool corner
11' Mo Salah readies himself for the corner by taking off the sweatshirt under his top. Liverpool putting a lot of players on the touchline for our corners - obviously spotted a weakness about their keeper.
Sadio Mane with the shot and the keeper collects.
Still all Liverpool.
14' Slight concern there for Sadio Mane who looked like he slipped towards the advertising hoarding. It's another corner for the reds. Our sixth so far.
Corner loops over van Dijk's head and comes to Joe Gomez, who probably wasn't expecting it to arrive, and his body's the wrong shape for the header which goes just past the corner of the goal.
17' Neymar drills a shot but Alisson beats it away. Cavani there with the follow up but collected by the keeper.
18' Poor pass from Mbappe after a dangerous break from PSG. Played the ball behind the onrushing Neymar and Cavani.
20' Great ball splitting the defence from Milner, the keeper's come out, Mane's running on to it.
Good tackle by Thiago Silva who cleans that mess up for them.
25' Mid way through the first half. Gomez with a good tackle to deny Neymar and the reds are up the other end.
Yep, another corner. This one is sent long, Mane dribbles skilfully into the box but then overhits his shot which goes wide.
YELLOW CARD
27' Virgil van Dijk awarded a yellow for a foul on Kylian Mbappe on the half way line.
PSG more involved
29' It's a more open game now as PSG are settling in to it.
It's the French fans voices that can be heard around Anfield now. Mbappe in acres of space, it's called offside, but replays suggest he was actually onside.
GOAL!!!
30' Alexander-Arnold's cross beats everyone, Andy Robertson's the other side and he sends in the cross - brilliant header from Daniel Sturridge to make it 1-0!
Should be 2-0. The Liverpool swarm all over PSG - Salah fires it in but Sturridge can't swivel 180 degrees to put it in the net.
LFC voices a little bit louder now at Anfield!
34' Neymar tries to smash a free kick in from 25 yards but the LFC wall does the job and it goes out for a corner.
And it was a well worked corner, it comes out to the middle of the area and Mbappe has loads of space but hits his shot over the crossbar.
PENALTY!!
Juan Bernat brings down Wijnaldum.
GOAL!!
Milner drills in the penalty.
2-0.
36 minutes gone
Goal
40' Thomas Meunier with a volley to make it 2-1. It's a cross that bounces unfortunately off Andy Robertson before the PSG player puts it in the net from close range.
HALF TIME
Liverpool were looking in pole position at 2-0 but that PSG goal seems to have changed the dynamics a bit of this game.
The reds have been the better side in that first half, no doubt.
Goalscorer Meunier receives a yellow card just before half time for a foul.
Explanation for Mo Salah's slow start to the season?
Seems that Ramos injury might still be affecting him?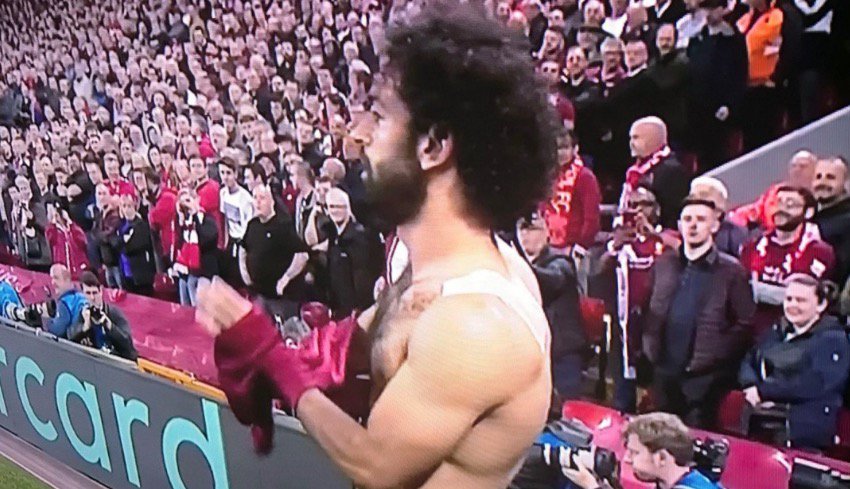 SECOND HALF
We're a few minutes into the second half here. The reds defending the Kop in this half.
49' Sturridge and Salah forming a nice little partnership here.
There's a little give and go between them but there's too many defenders crowding them out on that occasion.
SALAH GOAL RULED OUT
57' It's pretty much one way traffic at the beginning of this half from Liverpool.
Salah grafting hard to make an opening.
AND HE SCORES!!!
But it's ruled out after about 5 seconds for a foul on the keeper by Sturridge. Strange.
It's still 2-1.
62' Ooohh.. that was a great opportunity for Daniel Sturridge.
Lovely cross in but Daniel's header is low at the goalkeeper, who is still nursing the foot in the testicles he received from Sturridge moments earlier.
67' Kimpembe fouls Salah and the reds have a free kick, about 25-30 yards out...
... Liverpool try a training ground move and Thiago Silva gets rid of the threat.
Liverpool substitution being readied. Firmino coming on.
LFC SUB
72' Opening goalscorer Daniel Sturridge heads off and on comes Roberto Firmino to replace him.
It's his 150th LFC appearance.
Double PSG Sub
80' Edinson Cavani and Angel Di Maria head off - on comes Choupo-Moting and Julian Draxler
Goal
83' Oh dear. Mo Salah gives the ball away, not the firs ttime, and PSG intercept. It makes it way to Mbappe in the area who smashes it in to the net.
Shaqiri about to come on.
LFC Sub
85' It's the final LFC sub. Mo Salah heads off and on comes Xherdan Shaqiri.
Five+ minutes to go. 2-2.
86' Free kick to the reds at the edge of the area. Chance?
Alexander-Arnold hits it - deflected - LFC corner
BIG block by Van Dijk from Draxler. Great ball from Neymar to get behind Liverpool after our corner kick.
Another goal in this game?
88th minute.
Into three minutes of injury time.
Shaqiri standing over a Liverpool corner.
GOAL!!!!
90+2 YERSE!!! He twists and turns at the edge of the box before lashing the ball in. What a way to mark your 150th appearance.
ROBERTO FIRMINO!
LFC SUB
90+3 Has he got time for his first kick of the ball? Fabinho on for his debut replacing Sadio Mane.
FULL TIME
DESERVED WIN
Liverpool 3-2 PSG
Big hug for Bobby from Jurgen on the pitch.
It's going well
6 consecutive competitive victories for Liverpool who go top of their Champions League group after matchday 1.

— Anfield Online (@anfieldonline) September 18, 2018
Andy Robertson: 'All of the fans and players have been waiting for the Champions League to start back since May. We were brilliant today.'
Daniel Sturridge: 'Great ball by this man here. Him and Trent have a little comp going on. Last time I started (in Champions League) was for Chelsea so it's great to do it. We're a team. We're all here to add goals and determination that the manager talks about and is ingrained in all of us.'
Milner: 'Great to get off to a three point start. Perfect result for us.'
'Very important goal at the end. It would have been disappointing if we had a draw. It shows we've got the determination to go again. Can't say enough good things about Bobby. After coming off at the weekend to come back and do that.
Klopp:
'Nice football game eh? It was really important that we started well. They changed a bit of their system. We expected it.
'You need all your focus. We covered a lot of yards and closed all the gaps and won all the balls. We let them run, played around, used the right wing where Neymar, yeah he's a world class player but he's not a defender.
Klopp: 'I've not seen Daniel (Sturridge) as fit since I've been here. He was everywhere. He did that really well. And then we can bring Roberto Firmino on - it helps a lot - I liked his goal celebration.
'I think about the game in Paris - phew that will tough. But tonight this couldn't be better. 3-2. What people expect. Both teams won't really defend over the 90 minutes. We deserved the three points and I'm really happy.'