Liverpool take on Brazilian side Flamengo in the FIFA Club World Cup Final in Doha, Qatar.
The reds edged past Monterrey of Mexico, 2-1, on Wednesday thanks to a late winner by Roberto Firmino.
Today's meeting between the two clubs is their first meeting for 38 years and 8 days.  In that game in Tokyo, the Brazilian side ran out 3-0 winners and their clubs fans still sing about that game to this day.
The title of 'World Champions' is one of the rare titles that has eluded Liverpool to this day.
As it happened...
Fourth time lucky?
Liverpool have lost their three previous attempts at the effective world club title.
1981 - Flamengo
1984 - Independiente
2005 - Sao Paulo
Can the reds finally land the prize?
Confirmed LFC Team
Liverpool make four changes from the side that won the semi-final mid-week.
Alisson, Alexander-Arnold, Gomez, Van Dijk, Robertson, Henderson, Keita, Oxlade-Chamberlain, Mane, Salah, Firmino.
Subs: Adrian, Lonergan, Wijnaldum, Milner, Lallana, Shaqiri, Origi, Jones, Hoever, Elliott, Van den Berg, Williams.
Flamengo team
They start with the same side as in their semi-final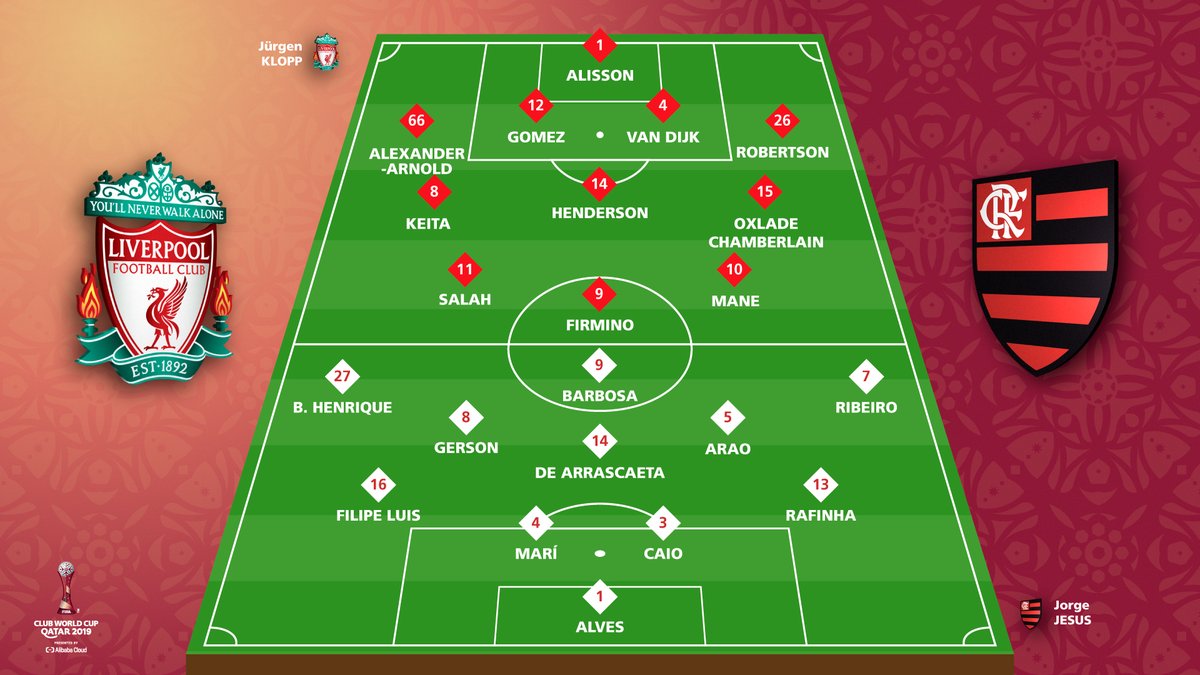 Monterrey 3rd
Monterrey have beaten Al-Hilal on penalties after the game ended up 2-2.
That was the 3rd place play off match that has only just finished.
Flamengo fans outnumbering Liverpool fans in the stadium.
This trophy clearly means a lot to the South American side.
Half an hour to go.
????
"In December of '81,
"We ran rings around the English,
"3-0 against Liverpool,
"It went down in history."

???? The volume at which the @Flamengo fans are chanting this in Doha & Rio is comparable to ???? @NASA's Saturn V launch❗️ 'The Nation' is from another planet ????#ClubWC pic.twitter.com/bPjYLfjWft

— FIFA.com (@FIFAcom) December 18, 2019
Teams are out
Just as in 1981, Flamengo in their white away kit - Liverpool in their red home kit.
Wow!
40 seconds in and Firmino is in but he fires over the bar. Great start from the reds.
Could have been better.
And another chance.
Salah holds off the defenders and feeds Keita...
but he lashes it over.
5' Trent Alexander-Arnold steams forward. Shoots. Wide.
14' No doubt that Liverpool are up for this game.
This is a very fast paced game.
You wonder how long both sides can keep this up for.
23' Moment of danger after an Alisson ball out is intercepted.
Fortunately Virgil van Dijk is there to calmly clear the cross.
26' Great speed from Bruno Henrique, Joe Gomez gets in the block and its out for a corner.
Flamengo overhit a cross though and Liverpool can clear.
35' Flamengo with the upper hand for the last 10 minutes or so.
Liverpool struggling to maintain possession.
42' Jordan Henderson dragged down in the area after a Liverpool free kick.
Somehow, its not a penalty but a free kick for the home team.
Referee has made some strange decisions.
HALF TIME
Flamengo 0-0 Liverpool
A yellow card there for Mane just on the stroke of half time. It was actually Rafinha holding Mane back but the ref only saw Mane trying to shrug him off.
Great start from Liverpool but Flamengo got themselves back into that.
All to play for.
SECOND HALF
Flamengo get the second half underway.
47' Well well well.
Firmino should have scored again at the start of this half!
Wonderful ball in. Excellent control. Hits it into the ground and it hits the post and comes back out.
50' Trent Alexander-Arnold across to Salahhhhh....
... it goes wide.
Liverpool could have scored four or five in this game.
53' End to end period and Gabriel Barbosa fires over the bar from the edge of the area.
53' Another chance for Barbosa, Alisson forced into the first save of the game.
69' Barbosa attempts an overhead kick.
There's not a lot of power in it and Alisson is down to smother that.
74' Oxlade-Chamberlain down, looks like his match could be over.
LFC Sub
75' Oxlade-Chamberlain does walk off as opposed to using a stretcher. Adam Lallana replaces him.
Salah puts the ball in the net but he's a couple of yards offside.
0-0.
78' Liverpool get their first corner of the game.
Vitinho on for Flamengo, De Arresceata off.
Yellow card for Salah
81' And it wasn't even a foul!
86' Quick move from Sadio Mane, ball works it way to the onrushing Jordan Henderson who shoots and Diego Alves tips it over the crossbar.
Great chance that.
Van Dijk heads the ball down and wide from Trent's corner.
3 minutes of normal time left.
Stoppage time penalty.
Sadio Mane brought down.
Ref reviews the decision and overturns his penalty.
FULL TIME
It's going to extra time.
It's 0-0.
GOAL!!!
99' Sadio Mane finds Roberto Firmino and he slots in!!!!!!
YES FINALLY!
Bobby gets a yellow for his celebration. Keita goes off and is replaced by Milner.
105' Looks like Liverpool should have been awarded a penalty there for handball.
The Qatari referee though doesn't want any of it.
106' Origi replaced Firmino at the extra-time half-time.
114' Rafinha fouls Lallana and the reds have a free kick just outside the box.
115' Alexander-Arnold fires the free kick and Diego Alves gets behind it.
LFC Sub
120' Shaqiri replaces Salah.
Two minutes to be added on.
WORLD CHAMPIONS!
It's all over!
Liverpool 1-0 Flamengo
The reds are the world champions.
And in case you missed it Man City beat Leicester.
So Liverpool have gone to Qatar to become World Champions, remained 10 points clear at the top, but now have a game in hand.
Merry Christmas everybody.