It has been 31 years since a Merseyside derby day has begun with Everton leading the top division, back then it was Division One, not the Premier League.
The Champions travel to Goodison Park for the second time since fans have been ushered out of stadium.
It had been hoped that fans would have been back, in limited numbers for today's game, but England's health restrictions have got even more severe since the last match-up in June.
Everton have a perfect four wins from their opening campaign, with Carlo Ancelotti's summer signings having an impact on improving his side.  Although the reds started with three wins, the wheels came off in spectacular fashion with a heavy defeat at Aston Villa a fortnight ago.
Although international duty has hampered preparations for both teams here, Liverpool will be hoping to improve hugely on recent performances whilst Everton could go six points clear of the reds with a first derby win in 10 years.
As it happened...
Top v 5th
Everton start the day top with 12 points and a goal difference of +7.
Liverpool start the day in 5th with 9 points and a goal difference (massively dented by the Villa result) of zero.
Thiago makes first start
Thiago Alcantara makes his first start for Liverpool.
Adrian, Alexander-Arnold, Matip, Van Dijk, Robertson, Fabinho, Thiago, Henderson, Mane, Salah, Firmino.
Subs: Kelleher, Wijnaldum, Milner, Gomez, Jones, Minamino, Jota.
Everton team
Here's how the blues line up today.
Pickford, Keane, Digne, Mina, Coleman, Allan, Doucouré, Gomes, Richarlison, Calvert-Lewin, Rodriguez
Subs: Olsen, Godfrey, Delph, Sigurdsson, Davies, Iwobi, Bernard
Goals at Goodison
Last three games at Goodison Park have all ended up 0-0. And you have to go back to 2016 to see a goal in this game when Liverpool won 1-0.
Teams in the tunnel. This is going to be a much tastier Merseyside derby than recent years.
Liverpool come out of their portacabin.
1' Virgil van Dijk and James Rodriguez lock horns early on. van Dijk was the one left standing after that one.
GOAL!!
3' Liverpool take the lead!
Andy Robertson finds Sadio Mane who scores the games opening goal! Great build up involving Firmino.
Van Dijk down
6' Nasty looking challenge on Virgil van Dijk by Jordan Pickford. Went in with his foot raised high off the ground across van Dijk's shins.
LFC Sub
11' Van Dijk forced off after that challenge and Joe Gomez is on to replace him.
Pickford didn't even get a yellow card.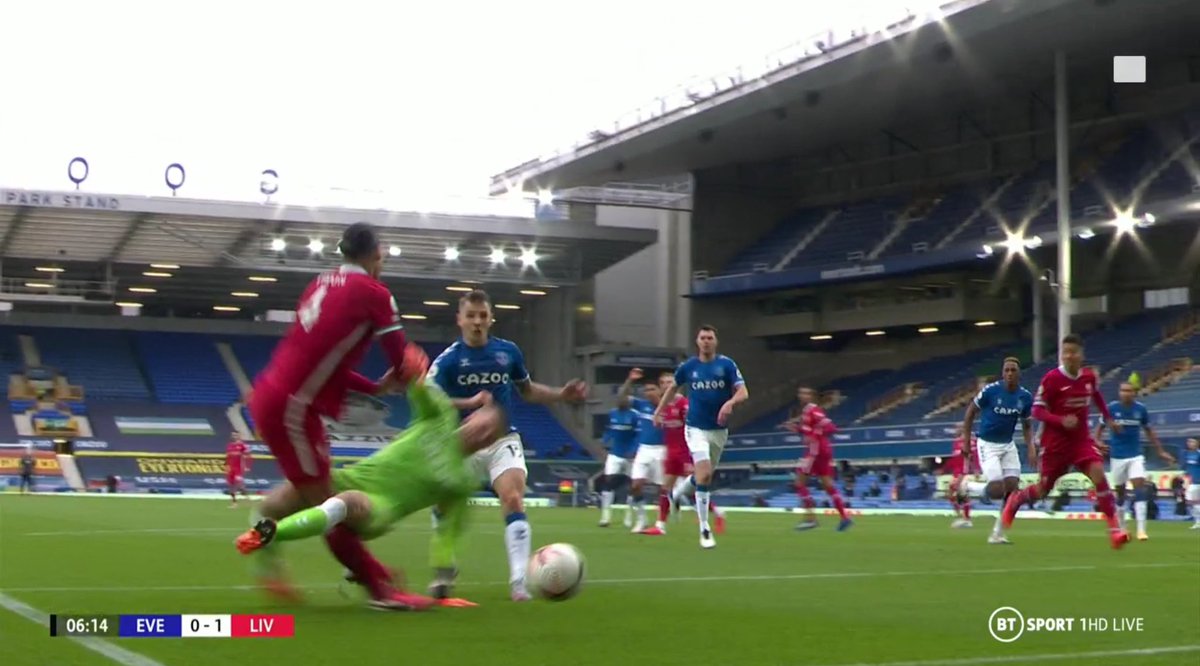 17' Calvert-Lewin gets an opportunity at the edge of the area for a shot, but he scuffs that with the inside of his boot and it's an easy collect for Adrian.
Still struggling a bit that the referee didn't even talk to Pickford after that horrible challenge.
It's a big test now for Joe Gomez as he partners Matip at centre-back.
Goal
20' Everton score from a corner. Adrian had denied Calvert-Lewin ahead of that but Michael Keane heads in from Rodriguez's corner.
22' Quick break from the reds, but Salah's shot is weak and rolls slowly towards Pickford.
25' Pickford saves a free kick just outside the area from Trent.
Everton sub
32' Seamus Coleman off for the home team after appearing to pull a hamstring.
Ben Godfrey replaces him.
33' Mane beats Godfrey and finds Thiago but he shoots wide from the edge of the penalty area.
Chance
35' Robertson drills a lovely ball across the area, Mane is running on to it but sticks it wide.
Very close to restoring our advantage.
HALF TIME
Everton 1-1 Liverpool
Everton should be down to ten men. Liverpool took the lead through Mane after 3 minutes but minutes later Jordan Pickford scissor kicked Van Dijk to force him out of a Premier League game for the first time since 2018. Michael Keane equalised with a header from a corner.
Everytime i see @VirgilvDijk challenge...looks worse !! Honestly, that's the reason I think someone who has played the game should be on the VAR room. He'll know that's a bad bad tackle from the Keeper...

— Luis Garcia (@luchogarcia14) October 17, 2020
47' Fabinho puts a shot high into the stands as he slips before he connects, about 20 yards out.
58' It's a little bit stale at the minute. Approaching the period were substitutions likely to be used.
Liverpool have looked the better of the two sides so far in this second half.
Yellow card
67' Clash between Digne and Mane, and Mane gets a yellow card.
69' And a yellow card for Gomes for dragging back Fabinho.
GOAL!
72' Mo Salah finally hits one harder and he powers that past Jordan Pickford.
Liverpool back in the lead!
EFC Sub
76' Sigurdsson replaces Andre Gomes for the home team.
Chance
77' Matip header and Pickford gets his fingertips to that.
Subs
78' Diogo Jota replaces Bobby Firmino, and for Everton Alex Iwobi replaces Doucoure.
Goal
81' Digne with the cross and Calvert-Lewin heads down into the corner.
2-2.
Yellow cards
85' Two yellow cards in quick succession for Fabinho and Allan. Two separate incidents!
Free kick wide
87' Trent with the free kick at the corner of the penalty area.
But he curls that the wrong side of the inside post.
RED CARD
89' Richarlison with a horrible challenge on Thiago.
Sent off.
Fabinho is replaced by Wijnaldum as finally, about 85 minutes later than expected, Everton go down to ten men.
GOAL!!!!!!!!!
93' YESSS!!!
Henderson puts the ball in and it hits Pickfords arms and bounces into the goal.
Goal ruled out
VAR review.
Absolutely ridiculous.
2-2.
FULL TIME
Everton 2-2 Liverpool
Absolutely astonishing. Everton should have been down to ten after five minutes and Liverpool had a legal late winner ruled out.