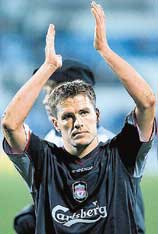 Gerard Houllier is determined to sign one of the world's greatest players this summer. Michael Owen.
The Liverpool boss has made it a priority to get Michael to sign a new contract, as Michael has two season's left on his current deal.
But we don't believe this will be as straight-forward as Gerard thinks, as Michael is becoming increasingly frustrated by the reliance on him, and the lack of Champions League football next season will surely grate on him.
We hope Michael does sign but it will not be that simple, if he does he will surely become one of the best paid footballers in the world, just like he is already.