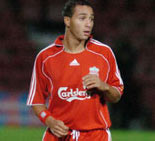 The reds team has been confirmed for tonight's clash due to start shortly against Portsmouth.
With a lack of central midfielders, Jamie Carragher will partner Steven Gerrard in the middle. El Zhar and Lee Guthrie are new faces on the bench for tonight's game – Bellamy's court case having only just finished.
Reina, Finnan, Hyypia, Agger, Riise, Pennant, Carragher, Gerrard, Garcia, Crouch, Kuyt
Subs: Fowler, Dudek, Paletta, El Zhar, Guthrie
There will be live match discussion with other Liverpool supporters in the forum during the game.