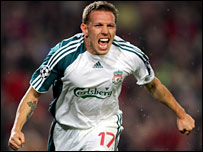 Craig Bellamy and Djibril Cisse's transfer away from Anfield have been confirmed by Benitez.
Djibril Cisse's transfer to Marseille has been rumbling for a while and the player agreed personal terms towards the end of last week. Cisse is believed to have moved for a fee of  around 9 million euros (£6.3 million).
Craig Bellamy meanwhile is set to move to West Ham in an £8 million deal.  The player is believed to be in London to sign his contract tomorrow, though some websites are suggesting that he is trying to pressure Liverpool in to paying him an exit fee.  West Ham United had been keen on a straight swap with Yossi Benayoun but Liverpool rubbished their valuation of the player. Rafa has had a £4 million bid for Yossi knocked back, but the reds are considering upping their offer.
Rafa said:
"The deals for Bellamy and Cisse are completed.

"And any move for Benayoun to join us from West Ham will not be linked with the Bellamy sale. We have made an offer which has been rejected.

"He is a player I like and would want to sign, and I believe he wants to join us, but that deal will be separate now. We will have to wait and see what happens now next week."
Liverpool have done well to secure a deal for Djibril Cisse even if they have taken a massive loss on the £14 million he was bought for – but considering his double leg-break injuries and mediocre performances at Anfield – both sides will feel they have done well out of the deal. The reds have managed to turn a profit on Craig Bellamy who they acquired after activating his £6 million release clause last year.
We wish both players well in their future careers.