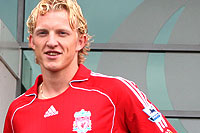 Dirk Kuyt's 10 goals in 30 games for the reds is 'not good enough' he has admitted in this weeks LFC Magazine but insisted that as he adapts to the English game he will become a more complete Liverpool goalscorer.
Dirk has been set the target of 18 goals this season by Rafa and with only 9 Premiership games left and at least 2 European ties, the Dutchman will have his work cut out.
"To be perfectly honest I'd expected to have scored more by this stage, but I'm still confident I can get the eight more goals the boss has mentioned," said Kuyt. "I've had a few decent games without scoring and missed some opportunities, so I should have a bigger total.
"Of course I want to score lots but for me that is not the most important thing. Reaching the semi-finals of the Champions League and ensuring we finish in the top four are my current priorities."
Dirk however says he isn't afraid of any other striker the reds sign in the summer.
"If the manager brings in a striker, that means another rival for me. It makes the team stronger and should make me better. Sometimes you can buy these players who are supposed to score 30 goals a season, but nothing is guaranteed in the Premiership.
"Andriy Shevchenko is a great example of that. He was exceptional in Italy but has found life difficult here. Didier Drogba didn't score many goals in his first two campaigns.
"It's my first year and I'm still adapting to the football."