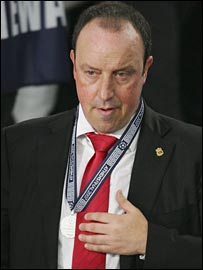 Rafa Benitez does not want to wait any longer as he urged the board to release the funds to buy his first choice players NOW, not later in the summer.
Speaking this morning Benitez said:
"We have a deal nearly completed for Gonzalez and I have told Bolo that he can talk to other clubs," said Benitez.
"We must quickly sign our number one targets and spend big and spend now."
"Our fans know what we must do and so do I," added Benitez.
"When you look at the champions Manchester United spending £20m on a midfield playerand we have been paying only £8m to £9m for our strikers, you know what must be done.
"I have been told by the new owners that they will back my plans.
"If we wait we will be chasing the players who are second and third on our list. We need to change the structure of the club on and off the pitch."
"We need to pay the price needed for each position. We have finished 21 points behind United and 15 behind Chelsea.
"They will both spend big money again and we will just be marking time. If we continue the way we are we will be fighting for third or fourth spot again at the end of the season – and we cannot have that all the time.
"Two seasons ago we got 82 points, a club record, and we could not get into the top two. If we do not improve now we will always be fighting for fourth spot.
"It is obvious we do not have enough players for nine months competing in four competitions."