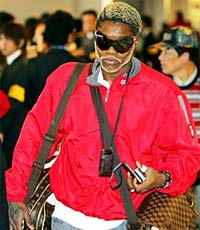 A football transfer is always the 'dream move' in the eye of the player involved, and Djibril Cisse's move to Marseille is following in this great tradition.
Cisse who spent the last year at Marseille became a figure of crowd frustration towards the end of the season as Lyon stormed to another French title. 
Just two months ago in an interview with the BBC's Football Focus he was 'dreaming' of returning to Anfield for another shot (video link).
But footballer's are nothing but fickle and as Liverpool prepared to wave goodbye to our second most expensive signing Djibril was convincing himself this was a good move. Ah bless.
"I am very happy, really delighted," Cisse told Marseille's official website.

"It has been a long time coming. We fought tooth and nail for this – and we have got what we wanted.

"I decided on Marseille even before the end of the championship. I had already made my decision.

"It went very well last season. Marseille is like my home. I am happy here."

"I was really keen on being present at all the talks between the directors of Liverpool and Marseille.

"I wanted to show to the chiefs at Liverpool that this wasn't a joke, that it wasn't just talk, that my wish was to join Marseille.

"I think that played a part in the final outcome."
Good luck Djibril.