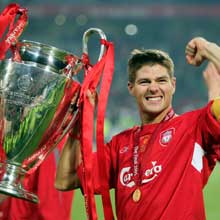 Liverpool return to Istanbul tonight in an important game as Liverpool look to put themselves in a stronger position in the UEFA Champions League.
The reds have only one point to show from their first two games, both dire performances, and not befitting of a team who have played in 2 finals in the last 3 seasons.
Steven Gerrard, above all others, has been reminiscing about the last trip to Istanbul and the importance of the game ahead.
"Istanbul means a lot to me and quite a few of the lads because of what happened there two years ago and it is nice to be able to go back and play there," he said.
"But that is in the past now and we have to look forward and tonight we have got to go to Besiktas and do a job.
"There's no point in looking back at what happened in 2005 because that won't help us this time.
"We're at a different stage of the competition, playing a different team and nice memories won't help us score goals or win the game."
"We haven't done ourselves justice in the Champions League so far and we would have obviously been looking to get more than just a point from our first two games.
"We haven't played well and that's why we find ourselves in the position that we are in but the important thing now is to look forward, starting from tonight against Besiktas.
"I'd be lying if I said I know a lot about Besiktas but I do know a bit about them and I'm in no doubt that by the time we take to the field for the game we will have seen a number of tapes of them and we will have been well briefed on them by the manager.
"We will definitely be well prepared for the game. But, to be honest, it is not about them, it is about us.
"We have to get our Champions League campaign back on track and to do that we are going to need a big performance."
Looking back at the grit and resolve shown against Everton he said:
"That is exactly the kind of spirit we are going to need tonight.
"We know this is going to be a difficult game because Besiktas are looking to improve their points total as well.
"I'm sure the atmosphere will be something else because the Turkish fans are always passionate but we are just going to have to deal with that."
"We have been doing well away from home so far this season and now we need to get another good result on the road.
"As I said, it is all about us and how we play. If we get it right on the night then I'm sure our position in the group will be much better afterwards."
Kick off is at 7:45pm.