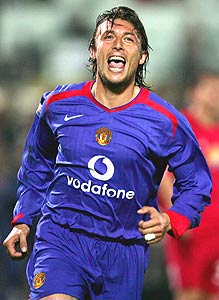 An FA Premiership panel will meet today to discuss Gabriel Heinze's proposed move to Liverpool FC.
The Man United defender is in possession of a letter signed by the United Chief Executive stating that he could sign for a club if a transfer valuation in the region of £6.8 million was met. Liverpool have met this valuation however United are determined not to sell to Liverpool.
In the past week Man United have worked hard to tout the defender around several major European clubs, but it is believed that the player is only keen on a move to Anfield.
Several rumours have suggested that the player will be able to buy himself out of his contract in the January transfer window.
Whether the panel will be able to reach a decision and announce it today is not known. The transfer window closes in 10 days time.
Alex Ferguson's initial comments suggested that the Heinze would become a Liverpool player only 'over his dead body'.