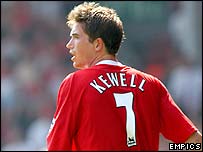 Harry Kewell is targetting the Liverpool – Barcelona clash for his return to the Liverpool side following his lengthy injury.
The Aussie hasn't featured for Liverpool this season after suffering a freak injury during the World Cup last summer. Following succesful surgery on his back, an area that has proved problematic for the winger ever since his arrival at Anfield, he made a significant step up in training last week and had this to say on his recuperation.
"I started running on Tuesday for the first time since the World Cup, so that was amazing."
"Just getting to this stage is a major relief and a weight off my mind.
"I think the desperation to play gets cranked up a little now that I am back here at Liverpool.
"I know I am getting closer, but I'm so keen to get back into it now that it can't come quickly enough for me.
"This is the frustrating stage, when it's close enough that you start to get your hopes up. It is gutting seeing the boys play and knowing you can't be part of it – just yet.
"I hope I'm about three or four weeks away from being fully fit.
"I've been back in England since the middle of November.
"The lads are great here. They're always asking when I'm going to be ready and how I'm going, but you can't really feel part of it unless you're getting your shirt dirty with them."
We look forward to Harry getting his 'shirt dirty' soon.