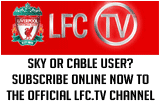 The next stage of the revolution at Anfield, off the pitch anyway, is underway as LFC TV – the club's own TV station was launched at 6pm tonight.
The station has been in the pipeline since the beginning of the year and tonight's first broadcast features 'This is Anfield' a phone-in and discussion show from 9pm with Liverpool fans.
The channel is part of Setanta's sports pack which is available on both satellite and cable in the UK.
Fans with an e-season ticket will also be able to view the broadcasts on the official website.
Former manager Roy Evans is among the debut guests.
Good luck to everyone associated with the channel!