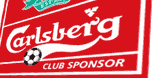 In a relationship spanning back to 1992, Liverpool FC and Carlsberg appear set to continue their romance with each other, as newspaper reports suggest the Danish brewing company is ready to make a vastly improved offer to continue shirt sponsorship of Liverpool FC.
Carlsberg managed a great deal for themselves when they managed to sign a contract extension with Liverpool just before the Champions League final for a bargain £5 million over 2 years. That contract is due up this summer and in recent years Chelsea have signed £50 million 5-year deals with Samsung and Manchester United signed a £54 million 4-year deal with AIG.
Today's report, by Chris Bascombe in the Liverpool Echo, quotes a Liverpool-Carlsberg tie up worth around £22 million over the next 3 years. As a result, Carlsberg would potentially be the first Liverpool shirt sponsor at the new stadium which may have implications for naming rights of the new stadium.
The deal however wouldn't even compare as well as Tottenham Hotspurs £34 million over 4 years with Mansion House.
The agreement was apparently reached before the takeover announced earlier this week.
If the deal goes ahead it will be good news for the supporters who bought brand new kits last summer after adidas returned to Liverpool as kit manufacturer. There were some worries that a change in kit sponsor would result in the need for an entire new range of replica shirts.
Liverpool were the first team in England to introduce shirt sponsorships, in 1978 with Hitachi. If the figures are believed then it looks like Carlsberg have 'probably' pulled off another of their greatest shirt negotiations…in the world.