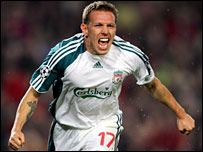 Although the media (chief culprits the increasingly clown-like Sky TV) would have you believe that Liverpool were wracked with internal problems and aiming for a 2-1 defeat at best, we actually decided it would be more fun to play Barcelona off the park and beat them.
In fact, we even gave them a 1-0 head start. Just for a laugh.
The truth of the matter is that on the night the five times Champions of Europe were, well, better than the two-times Champions of Europe.
A handful of yellow cards were picked up by both sides unfortunately, with the likes of Deco carrying on the great Portugese tradition of waving imaginary yellow cards at the referee to try and get Liverpool players booked. Unfortunately the ref gave in to the cheat's suggestion on a couple of occasions which could affect future rounds if Liverpool get through.
Craig Bellamy got the equaliser just before half time – then proceeded to celebrate by wildly swinging his imaginary golf-club. But the winner was sheer class. Bellamy could have shot but laid the ball to his new best mate John Arne Riise who smashed home the winner.
Special thanks to all the anti-Liverpool media for helping the Liverpool lads become an even closer 'unit'.
Final Score. Barcelona 1. Liverpool 2. Golf and Karaoke before every game then please… 😉
(Match Report is here. Pictures from the game and video highlights are in the LFC Forum. Give us your verdict on the game below or in the forum)