As far as transitions in power at one of the World's biggest football clubs goes, the hand over from David Moores to George Gillett and Tom Hicks, has gone down as one of the best.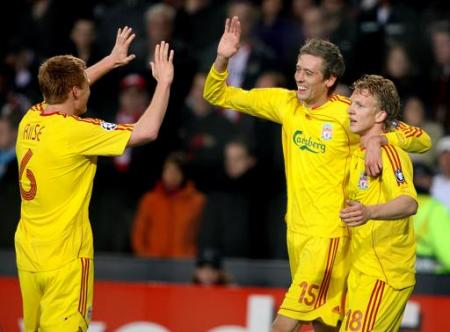 Rafa Benitez has been re-assured – quoting the Liverpool future as 'excellent', one of the biggest stadiums in Europe is going to begin building work in a matter of weeks, funding over future transfer targets has been assured, and Liverpool have convincingly beaten both Arsenal and now PSV Eindhoven to give Liverpool the best possible chance of landing a second European Cup semi-final place in 3 years.
Liverpool won 3-0 tonight in Eindhoven, after the reds (sporting the yellow away kit), dominated the first half and were rewarded by Steven Gerrard's first half goal.  (Steven Gerrard you may note – like a great footballer – always appears to reach his peak at the business end of the season….Istanbul, Cardiff…Greece?).
Under the Houllier era, the reds would have sat on the 1-0 lead hoping to bring it back to Anfield, but Benitez' attacking, ruthless Liverpool side appear as confident away from home as at Fortress Anfield these days, and sensed blood.  John Arne Riise, with a trademark spectacular effort, and Peter Crouch with his 4th goal in 2 games, ensured the reds got the result they deserved. 3-0.
The mystery continues as to why the reds away form, and goalscoring form, was so shockingly bad at the beginning of the season that the Premiership is so far away from our grasp.  Never fear, because the goals are going in, and Liverpool are looking like a team that are determined to land a trophy this year.
It would be difficult to fault any Liverpool player – they were all excellent.  They displayed all the elements us reds expect – grit, hunger, desire, effort and quality. 
There will be a few sore heads at John Lennon Airport tomorrow.
European Cup Quarter Final 1st Leg
PSV Eindhoven 0-3 Liverpool
Match Report