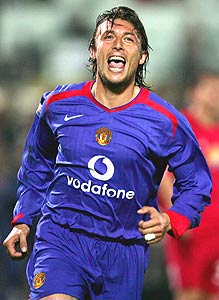 Gabriel Heinze, the man the reds want, but the man United don't want us to have, is again a target of the French champions Lyon.
According to the French daily, L'Equipe, Lyon could re-focus on Heinze, a player on their radar earlier in the summer, after a serious injury to one of their mainstay defenders, Cris, at the weekend.
The player was injured in the 1-0 defeat to Toulouse (the reds midweek opponents).
Although any deal would more than satisfy Alex Ferguson, Gabriel Heinze is believed to remain resolutely in favour of a move to Anfield.
A specially convened Premier League arbitration panel is expected to meet next Monday to discuss the players demands for a move.