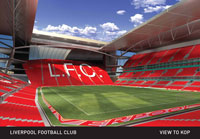 Finally, after months of hard work behind the scenes, Liverpool City Council have accepted the club's proposals for the new design of a new Anfield stadium.
The stadium will be built just yards from the existing stadium, and co-Chairman Tom Hicks last week admitted that the cost could reach around £400 million.
The stadium is expected to open with 60,000 seats although the eventual capacity could rise to around 75,000.
The American firm HKS Architects were brought in by the new American owners after they believed the original plans lacked ambition.
Paul Hyett, who is in charge of the architects responsible for the new stadium said:
"It's a fantastic job to be involved with, a fantastic city and fantastic club."
The new stadium will also increase the number of executive boxes and will be aim to be completed by the start of the 2011/12 season.
Work is expected to begin within the next fortnight on the ground.
The Timeline of the New Anfield Stadium
5th April 2006 – Liverpool submit plans for £160 million stadium
22nd May 2006 – Council accused of holding up plans
16th July 2006 – Doubts emerge over ability to fund new stadium
4th September 2006 – Reds re-submit plans with council for £200 million stadium
15th September 2006 – Reds running out of time to get European money
Liverpool take over by new American owners
14th March 2007 – New US owners halt existing stadium construction which 'lacks ambition'
18th June 2007 – A look back at some previous design proposals
25th July 2007 – Final designs made public
26th October 2007 – Stadium costs could rise to half a billion