Following the reds 3-0 victory over Newcastle earlier today both Benitez and the Club Captain have spoken to the press about the game.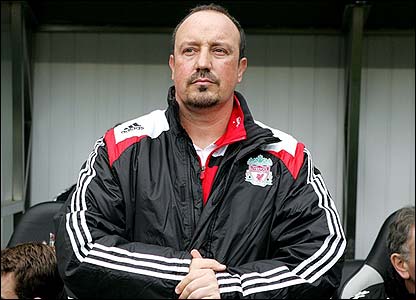 Benitez had this to say:
"We must be pleased to win 3-0 away, playing as well as we did today it could have been more but we must be pleased.

"I was pleased with the mentality of the players, the commitment, the passing, the chances that we are creating – a lot of things.

"I think we try to play the same home and away. The difference is that the other team pay higher when we are away and there is more space but at home they sit deep and it is more difficult.

"It's important for us to keep the team at the top of the table. We are unbeaten so we are in a very good position."
When asked about the rift with the Chairmen Rafa said:
"They don't understand the transfer window in Europe. When you sign a player he needs to settle down so they need to understand how difficult it is to sign players and when you have possibilities now you must do it now or you will lose the players so I was trying to explain.

"They said ok, keep calm, and I will try to continue winning games for my supporters. I'm sure it's not serious. If they understand the football here in Europe they will understand that we are trying to do the best for the club."
Meanwhile Gerrard said:
"We started the game bright, scored quite early and controlled the 90 minutes,. We're a bit disappointed not to win more convincingly."
Gerrard was booed throughout the game by the Newcastle United fans.
"Me and all the England lads have to take the criticism. We've let the country down by not qualifying so from now until we get it right we're going ot take the criticism, but I'm old enough and experienced enough to know that I've got to get on with it and play through.

"Now with Liverpool I'm going ot give it everything I've got. We've got some big games coming up and I've got to try to put the England stuff under the carpet for the time being and try to play well for Liverpool. When we join back up for England the players have to give the country a reaction and hopefully I'll be part of that."

"It was a good strike (his goal), I've had a lot of shots today but I caught that one nice and it's gone in. I knew quite early it was going in but the most important thing today was the three points to stay in touch with the top.

"It was a good team performance today and wasn't about individual performances and we could have had a lot more.

"If people want to write us off that's up to them, that's beyond out control. What we know is that we've got to keep winning.

"There's some very good teams in this league and to stay in touch with them you've got to go on runs, especially over the Christmas period you've got to stay really consistent if you want to stay in it and we're aware of that."