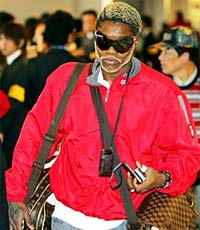 You have to wonder what the 'backroom boys' at Anfield really get up to at times.
A number of weeks ago, Djibril Cisse's one year loan at Marseille finished.  Some transfer talks happened – but it looked like the reds were prepared to be fobbed off by Marseille who wanted 'another' year of loaning the player.
The deal, was almost done. Until Rafa Benitez got back from his holiday.  With one sentence he uttered that Marseille either paid for the player, or they would not have him on loan again.  You can only imagine that Rick Parry felt the force of Rafa's displeasure at Liverpool's weakness when dealing with other clubs.
Today the news is that Cisse looks set to sign a permanent deal with Marseille this weekend, after the reds began to take enquiries from a host of English clubs – Man City, Portsmouth and West Ham (after losing out on Darren Bent) have all been mentioned.
"Marseille is definitely the choice for Djibril," Cisse's agent Ranko Stojic told BBC Sport. "I think the deal will happen on Friday or Saturday."

"Mr Benitez has been very, very correct."

"Of course he tried to get a little bit more money for his club but I think it will be a good deal for everybody.

"There are some details to sort out between Liverpool and Marseille but I think it will happen soon."
Maybe Rafa should be doing Rick Parry's job as well as coaching the team?