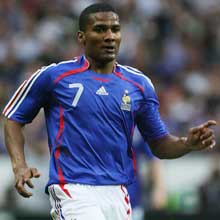 Liverpool's officials are set to head over the English Channel next week to discuss the transfer of Djibril Cisse away from Anfield, while nearby Lyon winger Malouda has still had no LFC contact.
Marseille have spoken in their strongest terms yet at keeping hold of Djibril Cisse whom they had on loan last year, even though the player has become something of a scapegoat for continued failure by the Marseille fans. Their eccentric Chariman Papa Diouf said:
"The meeting with the Liverpool officials should happen later next week."
"I have good hope because Djibril has showed very clearly his desire to go on with us.
"So there are already two parties willing, ours and Cisse's.
"Now we have to convince Liverpool. We are keen to go far in the talks to settle that case."
Meanwhile, over in Lyon, and potential Liverpool target Florent Malouda has stressed that although he is keen to leave Lyon there has been no official contact yet.
"Liverpool have not approached Lyon," said Malouda.
"It's no more advanced than that."
What is clear that in particular with Malouda he is keen to move as soon as possible, is hoping that the club that wants him expresses a strong desire to get him and above all – if he REALLY is a top target for Rafa Benitez then what exactly are the board waiting for? We've let numerous players slip over the years by being too slow off the mark – we nearly even lost Gerrard through it.