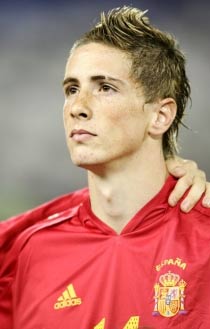 Fernando Torres may currently be on holiday, but Liverpool are stepping up the pressure to activate the release clause of £27 million, after Atletico appeared to be unimpressed by a deal involving a player swap.
It looked like Liverpool were keen on handing Atletico either Djibril Cisse, or Luis Garcia, plus around £20 million to secure the services of the Madrid striker. Media reports suggest Rafa's patience with Atletico's stalling is beginning to wear thin, and he has urged the Anfield hierachy to activate the release clause by bidding the full £27 million in cash.
Atletico appear to now be fighting a losing battle in keeping the player in Spain, major shareholder Gil Marin already seems to be resigned to the fact that Torres will go.
"Nobody is indispensable. We are trying to create a competitive team and no player by himself, very good though he is, is able to make a team achieve its aims.

"Atletico are building a team that does not revolve around Fernando Torres but around the team as a whole.

"I would delighted if Fernando was to continue here, but the future is going to be decided by Fernando himself.

"We have spoken to him and told him we would like him to stay.

"It is normal that he has doubts. It is normal that the offers and everything surrounding them has made him think.

"Torres knows that Atletico want him and if Fernando wants to continue at Atletico, he is going to continue."
There have been claims that Fernando Torres is keen to work with Rafa Benitez at Anfield, although no direct quotes have been forthcoming.