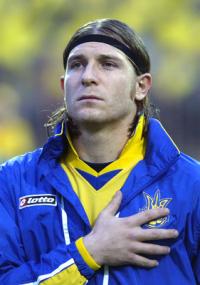 Rafael Benitez's scouts must have gone AWOL on their latest scouting exploits as they travelled to the non-Spanish speaking country of Germany to analyse Bayer Leverkusen's 27 year old front man Andriy Vorinin.
The Ukrainian striker is widely tipped to sign a pre-contract deal with Liverpool shortly, which will enable his smooth transfer to the club in the coming summer.
His contract will expire this summer and the player is believed to be looking for a fresh challenge after spending his career to date in the German Bundesliga.
The player, nicknamed 'The Crow', has scored 27 goals in 68 matches with Bayer Leverkusen since arriving in 2004.
Previous clubs include FC Koln, FSC Mainz and Borussia Monchengladbach.
Liverpool fans worldwide will be pleased to know he has not listed one of his favourite pastimes as Karaoke.