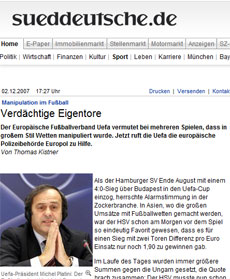 Despite UEFA's insistence that all 14 games they were looking at for match-fixing were pre-qualification games, a section of the German press has pinpointed the reds 8-0 win as a potential 'fix'.
A German newspaper Sueddeutsche Zeitung, based in Munich, has suggested that there were 'frenzied betting patterns' before the game.
The suggestion from that newspaper is that the Besiktas players may have 'thrown' the game.
UEFA have not commented on the German newspaper story.
Expect the British press to lap gently at the inklings from their Bavarian brothers.
The last few weeks all we have heard is how 'lucky' Liverpool have been with their 4-0's, 3-0's, 4-1's. The fact of the matter is this my German friends – if there was 'frenzied' betting on Liverpool then that hardly surprises me – Besiktas were always in line for another Anfield hiding.
Concentrate on trying to beat Bolton my Munich friends.