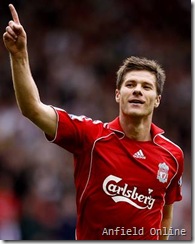 Xabi Alonso looks set to move to Juventus in a move estimated at £16 million. Alonso's agent, Inaki Ibanez, spent around 5 hours in negotiations with Juventus.
Only days ago Alonso re-iterated his desire to stay at Anfield and he was rewarded only last summer with an improved contract to tie him to Liverpool till 2011.
However, for some reason, the player appears to be marginalised at Anfield. Rafa Benitez now appears to have developed what can only be described as 'Gareth Barry tunnel vision' and many fans are left wondering if £16 million out for Alonso to pay for £16 million in Barry is an astute transfer move at all.
The Juve president said: "We can't deny our interest.
"But it's important we get value for money.
"Managing director Jean-Claude Blanc is working on this and on other possibilities."
Liverpool spent £10.5 million on Alonso's signature from Real Sociedad four season's ago. Despite only finding the net on 12 occassions in his 136 appearances, Xabi will also be remembered for that dramatic equaliser against AC Milan in the European Cup final in Istanbul.
Selling Alonso to pay for Gareth Barry may well be the most foolish mistake Rafa Benitez makes, and a move that in our opinion will fail to improve Liverpool FC.
Your thoughts?